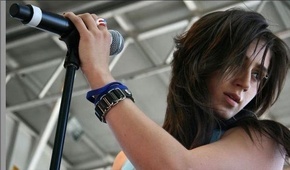 Turning 21 here in the USA can be very exciting. But for my next guest, turning 21 was even more exciting. Krista is a 21 year old singer & songwriter from Brooklyn, NY. Krista is signed to J Records & has been touring the country with Shwayze. We talk with her about getting signed, being on tour, a music biz bailout, and much more!
Stoli: How does it feel to be on tour with Shwayze and have you had the chance to party with them?  
Krista: Being on tour with Shwayze has been awesome so far, things have been moving fast and it's kind of cool that I'm the only girl fronting a band on the bill.     I haven't had the chance to party with them but we have chilled and kicked it after a show, they are really chill dudes.
Stoli: At 21 you are talented beyond your years. At what age & why did you decide to pursue music as a career?  
Krista: As a kid I always had this intuition with music and it always made me feel that writing and singing was apart me. I began pursuing music at the age of 14. I felt the feelings I expressed through songs could help a lot of others besides myself and I would always sing and carry around a tape recorder in my back pocket incase a really dope melody or lyric would pop into my head then I just woke up one day and thought to myself "what if" and "why not me" and I couldn't find a reason not to. MUSIC IS MY SOUL.
Stoli: How long did it take from when you began seeking a major deal to signing with J Records?
Krista: I spent about two and a half years in the studio writing and recording   before we decided to start shopping for a record deal. But once we started shopping it took me less than a year to land a deal.
Krista – J Records Official EPK:
[youtube Tdhn8mYf_hE nolink]
Stoli: How did you decide that J Records was the perfect fit for you & your music?  
Krista: To me J records was the fit because I believe no matter what genre I wanted to pursue J had the resources to make it happen. I am definitely blessed to say that I have a label that loves my music.
Stoli: Where were you & how did you react when you got word you were getting signed?
Krista: To be honest at the time there were several offers on the table , but J records was where I ultimately wanted to be. When I got word I was signing to J records I was working at Bryant Park Grill on 42nd street in Manhattan. I think I quit my job a couple days later.
Stoli: How is your life different from before the deal and after?  
Krista: Before the deal I felt like this was just a dream I'd always be chasing, but now that I'm signed I feel it is more my destiny than just a dream.
Stoli: How much of your personal life comes out in your songwriting?  
Krista: I try to be as honest as possible when it comes to my lyrics.
Stoli: When can we expect your debut album and what producers are you working with?  
Krista: Very soon!!! As of right now the single, "Temporary Insanity" hits radio at the end of January and I worked with producer Camus Celli on the album.
Stoli: If you were to give advice to talented young women coming up pursuing music, what would that be?    
Krista: If you feel in your heart that what you want is truly meant for you, stick with it and see it through. Even if sometimes you cannot see the goal in front of you, don't give up and trust in God when things get out of control. Do not crumble for the haters.   Always maintain a strong yet humble demeanor and make sure the team surrounding you is a solid, dependable group of experienced people .
Stoli: If the US government is going to bail out the auto workers & Wall Street, do you think they should bail out the music biz too?  
Krista: I don't think the music industry should require a bail out. The music industry and the financial institutions of this country have completely separate issues but I do think it's times like these when people connect with music the most.
Stoli: Thanks alot Krista!
Photo: Krista Performing at Lollapalooza on 8.2.08