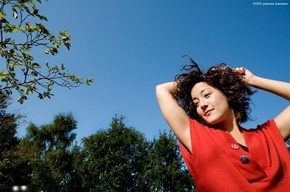 Swedish-Japanese singer Maia Hirasawa's debut album, Though, I'm Just Me, will be released in the U.S. on February 17 by Thrive Records.
The album was hugely successful in Maia's native Scandinavia, going gold. Her single "And I Found This Boy" reached top 10 on the Swedish charts.
"And I Found This Boy":
[youtube bk92Pm38G6E nolink]
Hirasawa, who plays guitar and keyboards, has become a familiar figure on Swedish TV and the radio charts, but she maintains serious indie cred thanks to her sophisticated yet homegrown approach, employing cellos, violins, clarinets and trumpets, as well as guitar-bass-drums and piano. Most recently, she charmed the nation by transforming the rocked-up number "The Worrying Kind" from popular Swedish glam rockers The Ark into a plaintive ballad, which closes the U.S. version of her album.
Maia Hirasawa's E-Card:
"When I was doing my album," says Hirasawa, "I wanted it to have this classic touch. I like the Beach Boys and the Beatles and Swedish indie bands like Eggstone that I listened to when I was 15 years old. I also love Rufus Wainwright."