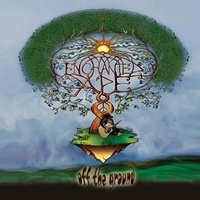 Formed in Wisconsin, three years ago, Enchanted Ape began with the dream of guitarist, lead vocalist, and songwriter Chris O'Brien and three percussionists. They soon attracted a stage full of guest singers and musicians, including harmonica players, saxophonists, organists, and even an electric cello player, that changed at nearly every gig as the band dipped into material that was equally eclectic and varied. Enchanted Ape did reggae, Southern rock, feel-good hippie jam, blues, and even some gypsy jazz—some covers but mostly O'Brien's original material.
They band released one CD, Three Ring Symphony,   in 2005, and played a variety of clubs and festivals in the upper Midwest, including the 10,000 Lakes Festival in Minnesota and Summerfest in Wisconsin. Enchanted Ape finally gelled into a   five-piece band in 2007 when O'Brien relocated to Minneapolis and Rob Bruce (bass/vocals), Brad Danielson (percussion), Adam Kuchelmeister (drums), and Pat Riddle (electric guitar/vocals) joined the group. This solid configuration recorded Off the Ground last year and released it a few months ago.
Off the Ground is an impressive sophomore album. It is of the quality that many bands only hope to achieve after many years on the road and many other CDs under their belts. Chris O'Brien wrote ten of the twelve songs on this album and collaborated with Pat Riddle on two others. The folky bluesy tune "Heat Waves" bears O'Brien's lyrics, but the music is a joint venture between him and Pat Riddle.   In contrast, the contemporary jazzy tune "Variable" in mainly a Riddle composition with O'Brien assisting on lyrics. These two songs, especially "Variable," are a definite departure from O'Brien's style but does fit well with the album's concept, which still bears an eclectic feel. O'Brien's touch is more organic and folk rockish.
One of the highlights of this album is O'Brien's ballad about a Wisconsin lumberjack caught in a love triangle called "Pine Tar Jack." There is also a touch of early Grateful Dead in "Whisper,"through its guitar work and vocal harmonies, and "27 Miles" offers a boogie blues. In contrast, songs like "Crawl" and "Leave Here As I Came" are more much than party fare, offering listeners something to chew around about life and the human condition.
This album not only has an accessibility that is present in roots and jam music but has depth of intelligence that is most unusual. If a sophomore album can be this good, how much more does Enchanted Ape have in its primate mind, just waiting to be gifted to waiting fans.
Words By Janie Franz
[Rating: 4.5/5]