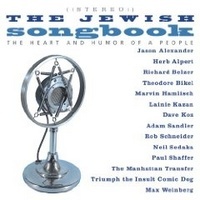 With the holidays approaching, I'd like to direct readers to a new CD compilation from Shout Factory   and the Jewish Music Group that would make an ideal gift for parents, aunts and uncles, or Jewish friends.   Record producer,   recording engineer, playwright, singer, and screenwriter, Brooks Arthur has long wanted to bring the songs of his Jewish childhood to a broad audience. He has gathered a varied cast to showcase thirteen musical selections.
Some of the artists on the CD are those you would expect to find on a compilation such as this. There is the lavish production of "Avinu Malkeinu" from Barbara Streisand's album Higher Ground, Neil Sedaka's "My Yiddishe Momme," Lainie Kazan in duet with Brooks Arthur himself on "Sheyn Vi Di L'Vone," and Theodore Bikel (with newcomer Betsy Hammer) bringing the touching "Sabbath Prayer." Even Manhattan Transfer offers their version of "Utt Da Zay." These are stars from another generation who have long associations with this ethnic music.
Then, there are the unusual performances of actors Rob Schneider ("Bagel & Lox"), Jason Alexander ("Shake Hands with Your Uncle Max," a Yiddish rendition of this Irish ditty), and Adam Sandler's duet with Cantor Marcelo Gindlin ("Hine Ma Tov," a beautiful traditional prayer). One of the most enthusiastic cuts on the disc is Paul Shaffer and Richard Belzer (Law and Order: SVU) in a very funny track called "Joe and Paul," which was translated by Theodore Bikel.
There are a couple of instrumentals, too. "Raisins and Almonds" by saxophonist Dave Koz and Helb Albert's "Mein Shtetele Belz." Both are tasty arrangements of these traditional favorites.
Along with a couple of other tracks by Marvin Hamlisch and Triumph the Insult Comic Dog, the CD rounds out to a pleasant mix of humor, tenderness, and reverence. This album would be an ideal gift for someone interested in a range of Jewish music, from old Catskills favorites to club and concert frequent requests to memories of songs sung with family. It's fun and heartfelt.
[Note: The religious songs such as "Sabbath Prayer" and "Hine Ma Tov," though very well done,   however cannot compare with brothers Martin and Michael Model and childhood friend Jan Watarz's 2005 recording, "Songs for Zeyde." (
http://www.inoticed.com/zeyde.htm
)   That album contains twenty songs from Eastern Europe that these talented musicians learned from the Model's grandfather Zeyde Joe. Rendering them with voice, acoustic guitar, mandolin, percussion, and an occasional Manhattan Transfer distorted guitar, they have preserved a spirit of a people and of a tradition. The music for Songs for Zeyde comes from the sacred music of the weekly Friday evening Shabbat service and the contemplative services during the High Holy Days, creating a musical prayer that is at times gentle, at times plaintive, and sometimes very joyous.]
Words by Janie Franz
[Rating: 3.5/5]