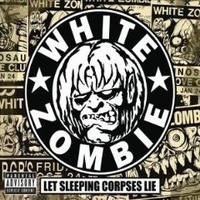 The much-anticipated compilation by the ultimate purveyor of shock, horror, and metal work, has arrived.   Rob Zombie has made a career of infusing creative sound with live shows that people in the business rank as one of the best live shows ever.   The four CD, one DVD box set, covers the metal madness from the beginning, from 85-96.   The 64 tracks follow the evolution of the remarkable stage bedlam documented on the DVD, which features 9 videos, 10 live performances, and some bonus Zombie goodies.  
The New York based group starts the fun off by giving you their first songs off their first album (released on their own label) Gods On Voodoo Moon, through the later material from the triple-platinum Astrocreep including More Human Than Human and it's respective video (the video won the much coveted MTV Best Hard Rock Video award).   Included in this compendium is the tune used in the movie soundtrack of Escape From L.A., I Am Hell from The Beavis and Butthead Experience, Feed The Gods from Airheads, and of course their cover of I'm Your Boogieman from The Crow: City of Angels.   Children Of The Grave from the Black Sabbath tribute album is also here for the listening.  
The DVD includes the videos Thunder Kiss 65, the song they originally recorded with Iggy Pop Black Sunshine, Super Charger Heaven, and The One.   The live documented mayhem includes Creature Of The Wheel, Soul Crusher, I Am Hell, and Spiderbaby.  
Rob has since gone solo with Hellbilly Deluxe and of course made the transition to a genre right up his alley, horror films.   This is of course a must have compilation for all of you dark sided metal heads.   Put it in the CD or DVD player, wave your metal horns, and enjoy!
Words By: RME
[Rating: 3/5]