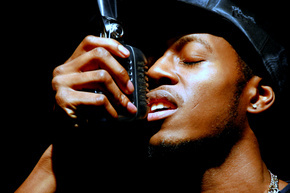 In the video for "We Here," we're hanging out with Illa J's gang in a swanky nightclub, sippin' bubbly and watching Illa floss his tux (both as the hired help, and as the evening's entertainment).
If "We Here" is the party, then "R U Listenin" is most definitely the after-party. Featuring the same personal vibe (and foxy lady in the whip) as the fist video, "R U Listenin" takes us all back to the Yancey family home, back to Detroit. With a signature mellowed-out Dilla beat, we're all sliding through the door of a house party just like the good ole' days, except this time we have Illa J, rhyming tight, and Guilty Simpson lending his distinct voice to the track.
"R U Listenin" feat. Guilty Simpson
[youtube OJVi1MoeWUI nolink]
"We Here"
[youtube wWPw_mQEXsM nolink]
In this video, you're just part of the crew, wandering around this house party, takin' in the sights, sounds and substances. There are pretty ladies, comfort food, 40's, smoke in the backyard, a visit from dear old mom, and in the background of it all is that classic Dilla beat making you feel right at home.