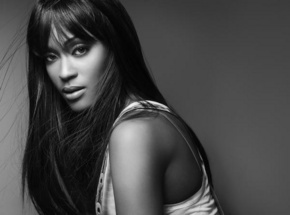 Who is beautiful, has a great voice, is from Barbados, and has a hit single out now? If you said Rihanna, well you are wrong. But don't worry, Shontelle does not mind at all. She is even friends with Rihanna. Shontelle is creating her own lane and has the hit single, "T-Shirt" to kick it all off. Join Stoli as I talk to Shontelle about RiRi, Steve Rifkind, being on a major and so much more!
Stoli: How do you feel when people automatically compare you to Rihanna for being from Barbados?
Shon: It doesn't bother me at all! That's natural. I'm new and people are curious. There isn't really anyone else (at least another Bajan, plus we're both female) for people to compare me to so I expect them to link me and RiRi. I'm just excited that the world actually cares and knows about Barbados now! And hey, Ri is the hottest thing out there right now!
Stoli: What was the final decision that made you decide it was safe to stop studying law and pursue music?
Shon: I started thinking about my future a lot and a very much desired and welcomed opportunity came my way. Just the fact that I have always known as a child that I would only be happy doing one thing! I want to be successful…very successful. I can only do that if I'm happy.
Stoli: How did it feel when you started hearing your hit, "T-Shirt" being played all over?
Shon: It was surreal! And I didn't know whether to cry or jump up and scream! But I felt very proud that all the hard work that my team and I put in was beginning to pay off.
Shontelle "T-Shirt"
[myspace 43384590 nolink]
Stoli: How does it feel to be signed to Steve Rifkind's label knowing his amazing track record?
Shon: I can't believe my luck! Steve is the man! He's legendary. I still pinch myself sometimes when I think about it.
Stoli: What is the most stressful thing of being on a major label and all the fame?
Shon: Too little sleep, no social life, living out of a suitcase, missing home and everything and everyone there…but that's the small stuff! I really enjoy meeting all the people who love and support my music. I'll sign and take pictures for hours! But the real stress comes when you start contemplating how long it will all last and the reality that this is really a business and it's how you make your living. Planning the next step always comes with a dose of stress and anxiety.
Stoli: How much does the internet help you keep in contact with your growing fan base?
Shon: Very much indeed. I'm very dedicated to my online soldiers. They really hold it down for me and the least I can do is try to keep in touch. Most of them want nothing more than a simple hello or reply. I really believe the majority of my current fan base made the initial connection to me and my music online.
Stoli: You were recently featured in Page Six. Are you a wild party girl or more of a home body?
Shon: Yeah the feature was a huge deal for me! I used to club a lot but I never considered myself a party girl in the wild sense. I just wanted be anywhere the music was banging and I could dance all night and not care about anything else but the beat! Most of my friends are the same. I'm more of a homebody now. I only see clubs these days when I'm working these days. But it's ok. Music is my job now!
Stoli: How long would you say that you were working on your music before you really started getting major attention from the industry?
Shon: Well I started bubbling on the local scene in Barbados for about 2 or 3 years before I started getting phone calls and emails. But really I was making beats and writing songs before I was 6 years old! After I got signed everything happened relatively quickly.
Stoli: For you to be in any man's apartment with his "T-Shirt" on, what kind of man do you look for?
Shon: Ha! A sexy one of course! And he must smell pretty good and have great hygiene for me to be rockin' any of his clothes. But I like intelligent, funny, tall, well-built/defined (not bulky), health conscious (not fanatic), active, adventurous, curious, appreciating, dedicated, attentive, children/animal/music loving go-getters! Oh yeah and if he can cook and clean too, he's gold!
Stoli: Before you are about to hit the stage what gets you in the mood to perform?
Shon: My DJ, Shortman is my number one cheerleader! He's like a mascot and the whole squad combined with the coach at a pep rally. But even without him I just get hyped off the screams from the crowd when they announce that I'm about to hit the stage. The fact that I know I will see some smiling faces and they'll be smiling because I made them feel happy…
Stoli: Thank you!
Shon: You're welcome!