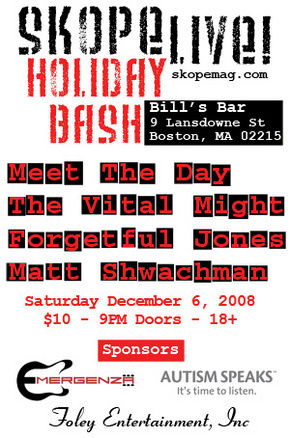 On Saturday December 6th, 2008 hundreds of music enthusiasts packed into Bill's Bar on Landsdowne Street. This night has been in the works since September of 2008. This Skope Live event was not just any concert as it is also an opportunity to raise money & awareness for Autism Speaks.
The doors opened up around 9 pm and the people began coming in. The first act was Matt Shwachman and his band. Before Matt went on to play we caught him for a quick interview. The lights were real low but you can hear us just fine.
Shortly after Matt hit the stage. His upbeat temp and catchy tunes brought people from the bar to the dance floor. Matt has had one of his singles that he played on the television show, 'One Tree Hill.'
[youtube QfnkEpPAVx0 nolink]
Matt played for a solid 40 minutes. Next up was Forgetful Jones. These guys really got things rolling. The lead singer has an uncanny ability to draw you in. This band truly commands your attention. Once you hear them live you are a fan.
[youtube VGrGA3idPzw nolink]
The boys were nice enough to offer us a quick interview as well.
[youtube kNPS49jyj4M nolink]
Around 10 minutes to 11 pm the third band came on. It was The Vital Might. These guys are as cool on stage as they are in person. Their energy and emotion just get the whole place grooving.
[youtube A7t7X65gU3c nolink]
The boys played hard for about 35 minutes. It was a truly classic performance. We have been trying to get these guys on a show for over a year so it was awesome to have them on hand. Last but definitely not least was Meet The Day. These guys were the perfect headliner to keep the people dancing. Their set started right before midnight.
[youtube Znwsmufta_8 nolink]
Meet The Day played on past 1 am and the people just wanted more. These guys songs are catchy and sound as good live as on record. Everyone needs to watch as this band continues to grow.
Overall, another great night for Skope Live!, Autism Speaks, the bands, and ofcourse the fans. Lots of drinks were served, lots of merch given away, and just a great time for all.
This will be the last show for 2008 but join Skope Live! in 2009 for a whole new lineup of shows for a good cause!