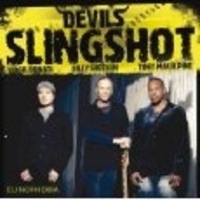 Okay, it's a given that nasty playing will occur when a power trio like bassist Billy Sheehan, guitar wizard Tony Mac Alpine, and drummer Virgil Donati team up.   Tony brings his classically trained piano style to guitar shredding, Billy, his metal guitar based bass playing, and Virgil must be a very tired man trying to keep up!   As Tony explained to me, these guys just love playing.   The smaller the audience, the more they give, sometimes playing for hours after the actual show time.   The group has made a career out of sharing the stage with scores of stringed luminaries, and combine what I would call "Free form metal/jazz".  
Def Bitch Blues runs fretwork through a tightly woven backdrop with some added eerie vibe.   Lay Off has metal-sided riffs leading into melodic territory.   Injustice Line starts out with a nifty drum tone lead in.   Ocean starts very melodic and moves into a more rhythmic piece.   Virgil puts the speed petal to the metal and forwards to syncopation on Flamed.   Cool drumming throughout on a piece that relies on time changes.   Bunny Brunel guests on Hourglass, which is an up-tempo jazz infused offering.   Aerial Perspective provides interesting runs and bass lines, with of course the effective drum backdrop.  
When you give this one a listen, you will want to see these songs done live.   If you're a guitar or bass player especially, you'll want to pick up on much of the style and axe-grinding involved.   Tony said that it wasn't any harder to write instrumentals than vocal led songs, especially when you're working with people of this caliber.   Bear in mind that these guys can jump onstage and jam with people like Steve Vai.     I can't imagine me doing either of the things I just mentioned!  
Words By RME
[Rating: 3/5]