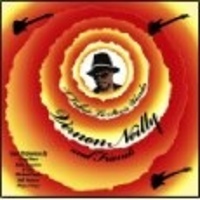 Although there are a zillion tribute CD's out there, this one combines some instrumental licks, interesting vocals, and some axe shredding.   Vernon shares the guitar duties with Greg Howe, Bill Hudson, Miguel Mega, and Kiko Loureiro.   Michael Paulo adds the sax among a group of other competent percussion, keyboard, vocal and bass specialists.   The songs are all classics, and the refreshing take on this disc is what was needed, rather than direct copies.
Boogie On Reggae Woman is a quick tempo, Greg Howe lick induced take on Stevie's classic.   I Wish is a quirky Stevie Ray sounding framework, mainly complements of Kiko, as well as the strong guitar interpretation on Don't You Worry About A Thing.   Bill Hudson gives Superstitious a feel that Jeff Beck would approve of, while Carlos Zema adds vocals with ranges that Ozzy would enjoy.   This is definitely the single cut, made for airplay tune.   Miguel Mega adds some cool speed runs to For Once In My Life while Christopher Clark does a great job on the vocal end.   Juan Nelson among others does an admirable job on songs with complicated rhythms that Stevie originally layed down keyboard bass to play against electric bass.
It's always hard to cover legendary material, but Vernon really gave it a major punch.   The musicianship and arrangements are focused, and most of all fresh.  
The overall combined rock vs. jazzy feel is unique, and the disc is definitely a guitar player's interpretation of how they would play the songs.   Give it a listen.   Very diverse, good licks, I think Stevie would bop to it!  
Words By: RME
[Rating: 4.5/5]