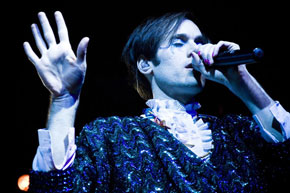 It was a night full of brawls, shoot-outs, executions, death and rebirth, mythological beasts, debauchery and hot pants. Yes hot pants. The band Of Montreal came to Club Revolution this Saturday and put on a show that was part indie/glam rock, part theatre and part flamboyant art exhibition.
Kevin Barnes multi-instrumentalist, lead singer and mastermind of the whimsical outfit from Athens, GA is well known for his eccentric stage presence and fantastic showmanship. This night was no different as Of Montreal offered up spectacle after spectacle to his captivated fans.
The set opened with "Id Engager" off the new album Skeletal Lamping that sent waves of excitement through the crowd. The audience skewed young partly because this was an all-ages show but also because Of Montreal has had success in capturing the attention of younger music fans.
Barnes immediately conjures up parallels to Bowie's Ziggy Stardust with his penchant for androgynous sexuality and theatrical stage antics. He made numerous costume changes throughout the evening and was in various stages of undress until he inexorably ended up wearing shiny hot pants and nothing else save a fashionable belt.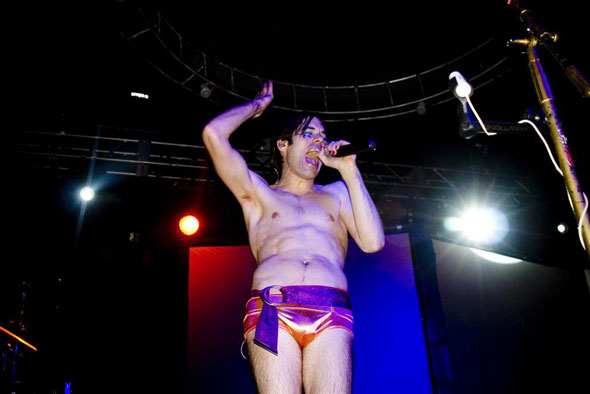 Throughout the set there were several performance art sequences. These were acted out by the troupe of performers who were dressed in garish costumes or in full spandex body suits. Barnes sang with the acted out scenes as his backdrop or he would directly engage in the action. At one point he was a bishop dressed in red robes and he sat on a throne with a scantily clad nun with fishnet stockings gyrating at his feet.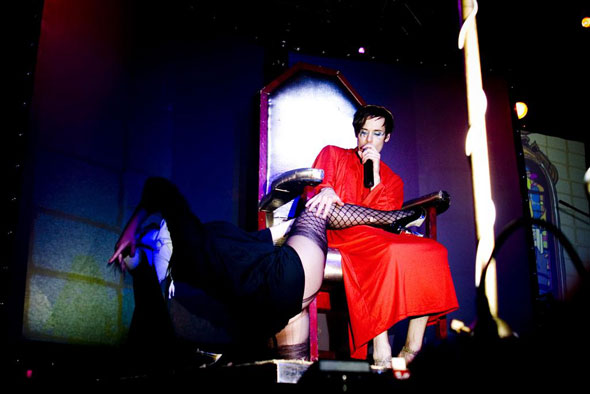 Another scene found him dressed as a centaur as he acted out a mythological love triangle involving a satyr, a princess and himself. We see him as a criminal being convicted of a crime and sentenced to death – he is brought to the gallows hanged in mock execution. Finally during his emergence from a casket filled with shaving cream he sang "A Sentence Of Sorts In Konsvinger" — his rebirth achieved to an up-tempo dance anthem.
The crowd hollered for an encore and the band obliged with an energetic rendition of their grooving "Gronlandic Edit". They ended the night with a surprising cover of Nirvana's "Smells Like Teen Spirit" which was a raucous tribute and worked the crowd into a frenzy. Of Montreal exited the stage but the air remained electric long after their departure. As the crowd filed outside a voice on the loud speakers declared this was the best show that Revolution had ever witness and I would be hard pressed to disagree.
See more photos: http://www.skopemag.com/gallery/index.php?album=of-montreal-december-2008
Fiery Furnaces opened for Of Montreal. They are an avant-garde indie rock trio from Brooklyn, NY comprised of siblings Eleanor and Matt Friedberger. They are an acquired taste to say the least. I confess I never really understood them. I have tried on multiple occasions to get through their albums and I always come up short. Is it because I don't have the sophisticated palate that the music requires? I have been accused of music snobbery on many occasions so I don't think that's the problem. I don't shy from the conceptual or abstract; I can dig into the experimental stuff. So why is their sound so elusive to me, why must I listen with furrowed brow in an effort to grasp for the deeper artistic merits. Maybe I come up empty handed because there isn't any.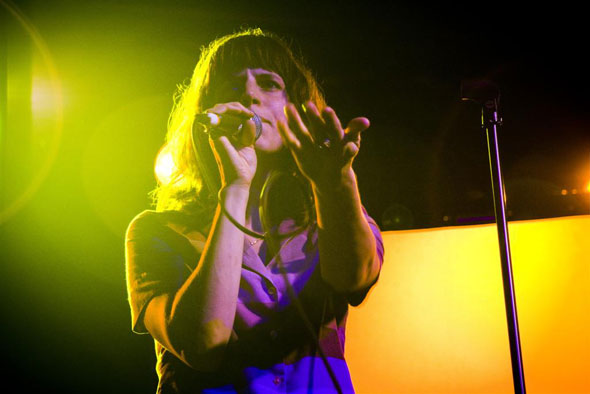 Years ago after listening to Rehearse the Choir I was both frustrated and confused. Here was an album that sounded more like a book on CD than a music album with the sibling's grandmother talking over droning and meandering melodies for over an hour. The rest of their discography is dotted with some brief spells of cohesiveness but they steadily remain in the abstract. An experimental use of synthesizer effects merged with cacophonous racket layered with gimmicky backwards recordings characterizes the clatter they pass off as music. To top it off Eleanor's direct, unadorned delivery sounds more like spoken word than an attempt at melody.
After seeing their performance last night I can say that my opinion of them has improved but mostly because my expectations were so low. Eleanor was rigid and robotic on stage. Her brother didn't stand up from his piano bench even when he switched to guitar. The drummer was super tight but following the spastic compositions the instrumentation was discordant and disjointed. That is their intent, clearly they want to keep you off balance but the uneven quality in their sound makes for an awkward embrace from the crowd. The large teenage crowd had some difficulty in assimilating what was happening on stage. The dissatisfied grumblings from the young audience was a clear indication that the epileptic musical fits on stage weren't resonating.
I will admit I sort of enjoyed it because in Eleanor's straightforward approach and the band's frenetic delivery I could see something really punk about them. Like Eleanor was channeling some belligerent ghost of yesteryear, and in that fleeting glimpse I found meaning. Fiery Furnaces aren't good or at least aren't easy to listen to but they make the music they want to make. They are punk and anarchic and DIY and that is why they are relevant. Just like the earlier punk rockers with their cacophonous and ear splitting fuck the establishment anthems the Fiery Furnaces declare war on the normal and acceptable. In that, they are brave and, in that they are an inspiration. A flash of Patti Smith inhabited the stage with Eleanor and in that brief instant all was well.
See more photos: http://www.skopemag.com/gallery/index.php?album=fiery-furnaces-december-2008
Words: Shaun Flagg
Photos: Norrel Blair
[cincopa 3s 10470550]
Of Montreal Set List – Dec 6, 2008
Id Engager
So Begins Our Alabee
Triphallus, To Punctuate!
She's A Rejecter
For Our Elegant Caste
Touched Somethings Hollow
An Eluardian instance
Heimdalsgate
Gallery Piece
Wraith Pinned to the Mist
Women's Studies Victims
St. Exquisites Confessions
Eros Entropic Tundra (sad love)
Nonpareil of Favor
October is Eternal
Wicked Wisdom
Bunny Ain't No Kind of Rider
Knight rider
And I've Seen a Bloody Shadow
Plastic Wafer
Beware Our Nubile Miscreants
A Sentence Of Sorts In Konsvinger
ENCORE:
Gronlandic Edit
Smells Like Teen Spirit