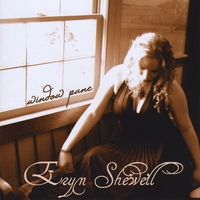 Eryn Shewell and her band play the kind of music you'd expect to hear at a good block party. The musicians are tight, and the music is loose, a feel-good mix of soul, country, and blues — a little something for everyone. Shewell has a voice that cuts through a crowd, she could probably keep singing with the band if her mic went out. And she has a penchant for hitting on a particular simple phrase and hammering it home in a chorus — "Just One of Those Days,"   "One More Melody," "I Don't Know." By the time her songs are over, you will remember the chorus whether you want to or not.
Stylistically, Shewell stays in mostly familiar territory on Window Pane. "I Don't Know" and "Just One of Those Days" could be lost tracks from Blues Traveler's Four. "I Want You for Breakfast" is the kind of comely cute ballad Jewel has made her trademark. Most of the album is the musical equivalent of comfort food. Funny thing about comfort food, though, if it didn't taste good, you wouldn't eat it. And to stretch the metaphor even further, Shewell is happy to serve up tasty helpings of it.
Although she can be a little overwrought at times, Shewell's voice adapts well to bright country rock or sassy blues, whatever's needed for the song at hand. And her band is impressive, from the horn section playing funky breaks to her rock-leaning electric guitarist to the tasty grooves her bass and keyboard players lock into. Everyone fills when they need to, no one steps on anyone else's toes or makes the arrangements too busy. Window Pane may not blow you away with its originality, but you won't kick it out of bed for eating crackers. (Ouch. Back to the food thing. What a hack).      
Words By: Nick A. Zaino III
[Rating: 3/5]