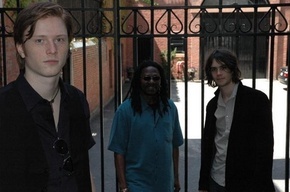 Brothers on Fire was recorded over the winter of 2007 and 2008 after The Vintage Mink's Pacific Northwest Tour. It was released on December 1, 2008 along with their website www.thevintagemink.com.   Brothers On Fire is the first full-length album from the band and includes 10 new original tracks written by brothers Joshua and Jacob.  
There are cameo appearances as well from all star drummer Byron Mercurius (Sam & Dave, Cool & The Gang, and Rising Lion) and virtuoso key performances from Ramsey Embick (KISS, Ray Charles, Gladys Knight and The Commodores). The CD mixes the maturity of these legends with the brothers fresh Rock sound.  
Born in Minneapolis, Joshua began his musical journey at a young age. Growing up on the North Shore of Lake Superior gave Josh the time and space to find his own voice as a performer and producer. As a multi-instrumentalist, his influences come from many different sounds but always returning to the guitar as his instrument of choice. With a wide variety of accolades under his belt for such a young age, Joshua has brought his solo music and the music of The Vintage Mink across the globe. "Working with my brother and my family is like forging wonderful works with grit, iron and fire. We are always fine tuning ourselves and constantly pushing each other to grow in our music and in our lives." Joshua is known for his attention to detail within every process of the music business. Whether he is producing or performing, teaching or recording, his heart and soul radiate his continual commitment to excellence as a solo artist and front man of The Vintage Mink.
Jacob Michael established a name for himself as a versatile Blues axe-slinger in his school years packing Minnesota pubs at age 11. After playing for many notable groups and founding The Vintage Mink, Jacob moved to Boston where he is currently ripping up the scene after graduating from Berklee College of Music. With Blues and Soul dug deep into Jacob's musical vocabulary, he plays an All-American style of Rock & Roll that has a fresh sound and a new attitude that comes shinning through like a spotlight on The Vintage Mink. He touches on everything from Jazz, to Reggae and Funk creating a personal yet familiar voice. Jacob's Rock & Roll philosophy is that of a scholar, a disciplined and conscientious student. The music has evolved into a melting pot of style that constantly takes different forms and new sounds while paying homage to the traditions and the greats. "The Vintage Mink has been a journey that is extreme and takes me to new musical worlds of possibility…" stated Jake when asked about his role in the band. What started back home on Highway 61 is now a tradition and a lifestyle for the brothers that is on going and ever changing.
I first met Josh and Jacob when we all worked shifts at a local motel.   These brothers had moved to Minneapolis from the North shore of Lake Superior Minnesota to pursue their music careers by attending the Perpich Center for the Arts School.   A unique school serving grades K-12 focusing on the arts.     There they met musicians from all over the state and started up their band.   The first thing I noticed about them both was their Minnesota nice personalities, strikingly handsome looks and great vocals and guitar.   The brothers fuse roots rock with a new wave fusion that creates a very new rock and roll sound.
In August 2007, while doing a special project for KFAI radio, I had The Vintage Mink on a radio program I produced.   They had put out their first CD "Vintage Mink" and gave them out over the air.   Shortly after that, Jacob headed off to attend Berkeley school of music in Boston and Josh stayed behind working part time and performing with various players around the area.   The brothers continued to get together on a regular basis and toured the Pacific Northwest in late 2007 and early 2008.    
Jacob had some formal vocal training over the years and Josh and he harmonize beautifully.   Their guitar playing is first rate.   Their lyrics are thoughtful and provoking.   On Brothers On Fire, They saved the best for last.   The 10th and last cut "The Waltz" is my favorite.   It's bluesy rock with a romantic theme.   You can hear samples at their new website www.thevintagemink.com.    
www.myspace.com/thevintagemink
Words By: Diana Olson – diolson05@yahoo.com