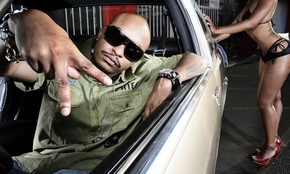 It was a chilly Wednesday night in New England at the Skope headquarters when the phone rings. On the other end is a hip hop powerhouse in his own right from Atlanta, Shawty Putt.
Shawty Putt is an emcee signed to Lil Jon's BME Recording label. He got his start in the game writing hooks for such acts as Youngbloodz and Lil Scrappy. Shawty has built a tremendous following online as well with his catchy track, "Dat Baby" which features Too Short. Look out for his debut called 'Explicit Lyrics' coming in 2009.
[myspace 47667343 nolink]
On this night, Shawty Putt put all that aside for a moment to chat with Mikey Frieds. We really got it in talking about trifling women, Lil Jon, Maury Povich, what a Shawty Putt party is like, the TI/Shawty Lo beef, and so much more. Shawty Putt holds nothing back on this one.
For More Shawty Putt: www.myspace.com/shawtyputt