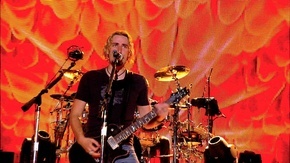 Recorded in high definition at the world-famous "Rockin' the Rally" show in Sturgis, South Dakota, Nickelback Live at Sturgis 2006 is available today on DVD exclusively from Walmart.
The DVD features a twelve song hard-rockin' set of fan favorites and modern day classics off their first three albums as well as a special behind-the-scenes documentary featurette incorporating backstage interviews, the "Rockstar" music video, a Sturgis 101 primer and photo gallery.
Video Trailer Stream:
CLICK HERE TO PURCHASE THE DVD!
Track Listing:
Animals
Woke Up This Morning
Photograph
Because Of You                      
Far Away
Never Again
Savin' Me
Someday
Side Of A Bullet
How You Remind Me
Too Bad
Figured You Out
Bonus Features:
Behind-The-Scenes with Nickelback
"Rockstar" Video
Sturgis 101 Vignette
Photo Gallery