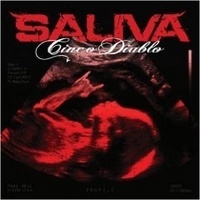 Southern rock returns, Saliva style.   Memphis rockers Saliva release their fifth album "Cinco Diablo" on Island Records December 16, 2008.     "Cinco Diablo" is the follow up album to "Blood Stained Love Story", which was released in January 2007 and featured such hits as "Ladies and Gentlemen" and "Always".   Saliva's debut album "Every Six Seconds", released in 2001, was recently certified double platinum by the RIAA, and featured hits like "Click Click Boom" and more.
"Cinco Diablo" brings a diverse array of lyrical styles ranging from hip-hop inspired, to melodic "post-grunge" rock…all with the southern rock edge that has become the Saliva staple.   Shredding guitar solos, edgy lyrics, and songs that will "Hunt You Down" make this Saliva album a fitting follow up to their four previous offerings.   "Forever and a Day" offers a change of pace for an otherwise rocking album into a slow jam complete with some acoustic guitar action.   The rock roars back with the track "I'm Coming Back"…"just like I promised" [complete with yet another shredding guitar solo].
So when you are looking for a stocking stuffer for the southern rocker in your family, "Forget the world's confusion, it's a family reunion"…reunite them with Saliva and go out and get "Cinco Diablo".
Reviewed by: Gary Jacobs
[Rating: 4/5]