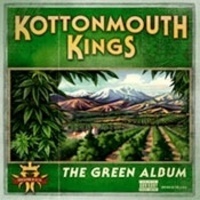 A Kronic Kottonmouth Kondition.   "Homegrown in Southern California", The Kottonmouth Kings release "The Green Album" on Suburban Noize Records – already Billboard's #1 independent album.
"Gonna go out in a blaze of glory, doin things our way"… the Kottonmouth Kings are high on their latest release with 20 freshly picked tracks for your Kottonmouth pleasure.   "Who do you know that can rock like this?"…   Mixing hard hitting hip-hop, guitar riffs, and lyrics that won't quit… the Kottonmouth Kings are back with a vengeance and ready to take their show on the road.   So pack your bags, "pack your bowls as we head on down the road", and check out the Kottonmouth Kings on the tail end of their tour through California this December, and for the rest of you…don't let the paranoia stage set in, the Kings will be back on the road in 2009.  
"Oh no we don't give a fuck" …"We like Smokin, and drinkin, and doin our thang"…that's always been the attitude the Kottonmouth Kings bring to the scene.   "The Green Album" certainly solidifies that in stone[d].   So "don't test yo luck" with some pretendica, this is the full grown fruity Kush style Kronic from the Kottonmouth Kings.
Grab yourself some Kronic, a couple blunts, and a copy of "The Green Album" by the Kottonmouth Kings.   Don't forget a gallon of cold water to combat that Kottonmouth Kondition…you may be stuck on the Kouch for a while…
Reviewed by: Gary Jacobs
[Rating: 4/5]