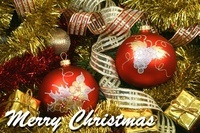 For many, ahead lie the best of times and the worst of times.  
For the past few weeks — as the economy began seriously crumbling, putting families with children on the street while banks received bailouts — I'd been eyeballing our spare room.   Larger than most hotel rooms, it's a mute reminder that fake wood paneling should never have been invented, but man, it's the warmest room in the house.   What we should do, I thought, is put an ad on Craigslist and let some poor devastated couple crash there til they're back on their feet.
After my wife — who'll agree to anything just to shut me up — mumbled that she'd be willing to roll with it, it immediately struck me that it was a dumb idea.   Everything'll be fine.   Just shut up.
Then a week or so ago came the story about the lady in Littleton, CO who advertised on Craigslist that she wanted to share her Thanksgiving dinner with any downtrodden soul who wanted it.   Free.
Music — from old carols to new originals by recently hatched stars — has always been an essential part of the holiday season.   Even for those going through impossible adversity, a snatch of "O Tannenbaum" could provide a lift.
This year, music could use a little help if you have something to give.   Giving is never stupid, though sometimes misunderstood or outwardly unappreciated.   And so the list of recent holiday-related releases below, in best-to-worst order, is led off by a prime example of the type of spirit that could fill you if you're willing to let it.
Princeton Choirs, A Princeton Christmas: For The Children Of Africa Vol. 2 (CreateSpace Records)
An amazing-sounding battery of hymns and non-pop carols mostly sung without instrumentation by various choral groups around the Princeton, NJ area.   This is your ticket if you enjoy the full, rich, wide type of chorus-concerts presented to the Pope each year but you wouldn't mind going without the pipe-organ clamor.   The Princeton University Chapel Choir makes gorgeous fractals out of "A Welsh Lullaby"; The American Boychoir enchants angelically in "Hodie Christus Natus Est." All proceeds benefit the UN World Food Program.   Amazon ID for the 18-song disk is B001JP623Y.
Grade: A+ [Release date: 11/2/08]
Various Artists, The Essential Now That's What I Call Christmas (UMe Records)
Even before Thanksgiving this had climbed to triple digits in the Amazon sales rankings, mainly because one could put this on endless loop at the holiday and have all-ages ambiance for hours.   It has everything: Elvis' "Blue Christmas," the Dean Martin take on "Baby It's Cold Outside," Andy Williams' "Most Wonderful Time of the Year," ad infinitum. Only thing missing is Nat King Cole's "The Christmas Song," but Johnny Mathis posts his eternal "It's Beginning to Look a Lot Like Christmas."
Grade: A+ [Release date: 9/23/08]
Ten Out of Tenn, Christmas (self-released)
Co-op of indie-rock lost-souls going against the Nashville grain. Usually the thought of such a thing gets me barreling for the exits when holiday music is involved, but this crew is hungry, serious and loaded with hooks pertinent to their Portishead/Sixpence None the Richer-leaning originals, while the refrying of traditionals such as "O Holy Night" and "Little Drummer Boy" is lovingly done. The troupe visits the Paradise in Boston on 12/16.   (Buy at www.tenoutoftenn.com)
Grade: B+ [Release date: 11/4/08]
Winter Dance Party, Holiday Greetings To You (self-released)
This one's for the Elks Club patrol, starring three guys who make a living playing the parts of Buddy Holly, Richie Valens and The Big Bopper, here imagining what it "would" have been like had the 3 collaborated on a holiday album.   What they actually do is turn "Frosty the Snowman" into an excuse to resurrect the rap ideas from "Chantilly Lace" and Peggy-Sue-ize "O Little Town of Bethlehem," stuff like that, a blending of 50s oldies with carols.   (Buy at http://cdbaby.com/cd/winterdanceparty)
Grade: B- [Release date: 11/2/07]
Aimee Mann, One More Drifter in the Snow (Superego Records)
This 2-year-old latecomer is massively predictable — Mann is too introverted for "You're a Mean One Mr. Grinch" and she should have given it a long second thought, while on the other hand she's perfect for fluffily cooing "The Christmas Song," "I'll Be Home for Christmas" and "God Rest Ye Merry Gentlemen." The instrumentation is retro-50s, thankfully disinterested in modernization, but boy does she sound shy, as though she could think of nothing but the guys in Gang Green pointing and laughing.
Grade: C+ [Release date: 10/24/06]
Ashton Allen, The Christmas Songs (Rock Salt Songwriters/Barnes & Noble)
Barnes & Noble exclusive #2 for Allen, who had some success hacking away at earthshakingly mediocre indie-bubble in the past.   He solidifies his grip on same as of this outing, a mix of toothless Jack Johnson/Beck-like surf-indie originals and equally worthless, ennui-drenched imaginings of holiday standards.  
His interpretation of "O Little Town of Bethlehem" — done a la mid-tempo garage — is possibly the most despicable froth of poseurship to ever disgrace a holiday record.
Grade: C- [Release date: 11/4/08]
Words By: Eric Saeger – Happy Holidays!