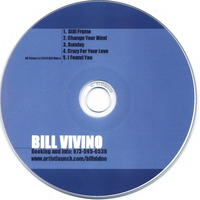 Bill Vivino comes by his abundant talent honestly. His grandfather,a jazz pianist, exposed young Vivino to music that had passion. Vivino's current project, Still Frame, showcases his melodic voice and stellar songwriting talent. The five songs in this EP are heart-felt songs about relationships. Though his music has been labeled pop rock, his vocal delivery is more akin to old-school R&B of several years ago, but wrapped up in a fresh new voice and modern lyrical idioms.
 
Backing up Vivino's soulful vocals is a seasoned band. Though he is skilled on guitar and piano, Vivino chose Josh Forsythe to do keys and guitar and bass duties on Still Frame. He also brought in Mark Mopsick and Chris Kaiser for guitar work on some tracks and three drummers (Jason Dodds, Uutaka Uchida, and Al Perdomo) for other tracks. However, when Vivino does club dates he does play   guitar and piano and is backed up by Steve Nurge on lead guitar, Matt McCarthy on bass, and Chris Golinski on drums. All of these musicians create a jazz-rooted rock sound that is the perfect backdrop for Vivino's pop vocals.    
 
With the strength of the vocals and songwriting skills shown on Still Frame, Bill Vivino is poised to become the Frank Sinatra or the Rob Thomas of the twenty-first century. Vivino's next step should be a full-length album to showcase a broad range of his talents.
www.billvivino.com
www.myspace.com/billvivinomusic
 
Review by Janie Franz
[Rating: 4/5]