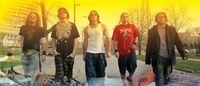 Wow!!! Funk—Rock—-Hip-hop= Stellar record with Sunset Ammunition.   The album starts off with an intro of fans boasting on Miclordz & Sauce Funky—one hell of preview.   The first track, "Start the Show", brings high energy right from the get go and never lets up.   These guys are funkin' it and rockin' the joint while also bringing a hip-hop flavor.   Get ready to get amped up with Miclordz & Sauce Funky's Sunset Ammunition.  
The band is made up of Dayun Marjanovic aka BOOTS on vocals, Mike O'Phee aka AlerG on vocals, Matthew LaLonde aka MATTE on guitar, John Rodgers aka ROGE on bass and Charles McKittrick aka C MACK on drums.   These five members all have one thing in common: they are all from Canada.   This five-star Canadian group is taking the music scene by storm in Canada along with many spots in the U.S.   Be on the look out because the overall sound and energy on this record is simply electric and you just might get shocked!
I really loved so many of the lines and licks throughout Sunset Ammunition such as: "Funky like James Browns' dancing shoes" and the crowd-pleasing chant of "Funk you Right on Up!" on "Funk You Up".   The Shaft-like guitar riff to start up the song, "Why You So?" was just simply SWEET and appears one more time in the song.   Guess I can say: Miclordz & Sauce Funky are Baaaad Mothers (You say, Shut Your Mouth), but I'm just talkin' about Miclordz & Sauce Funky.   The funkiness is pumpin', the rock vibe is slammin' hard and the rap attack is tight.   You're getting all three genres of music all wrapped up into one close-knit, Canadian five-some.  
Good words of wisdom and a terrific message is brought to you by one of the band members on "First I'm Gonna…" and that is: "Everything is just so mainstream, people gotta start taking chances again because that's the only way we're gonna get out of this rut."   I couldn't agree more man–good point!   Also hear the guys sayin' on "Roll With Me" that you can find them hangin' out on "Hip-Hop Avenue and Funk Boulevard".   Makes sense because that sums up the core of their sound, but can't forget let's say Rockin' Road.   On the track, "All My People", you'll hear a funky, fresh bass line with one hell of a rock groove.  
I also was feelin' "Smooth" because of its silky, smooth-to-the-touch approach and calm, cool and collect feel.   The last song on the album, "Sunset Daze", ends it all nicely with a cool acoustic set to start it all up.   Overall, I simply loved this album because of its great sound, which was very refreshing to the ears.   Love a little rock, rap and funk, so WHY not put it all together to make up Miclordz & Sauce Funky.   And then the ENERGY, it was just nuts–I seriously was jumpin' up and jammin' out in my two-bedroom condo.   No joke!    
Definitely need to hear these funky, fresh rockers from Canada–you will not be disappointed I assure you.   For more on the group, SKOPE out www.miclordz.com and www.myspace.com/miclordzmusic.   I really loved every song, except one on Sunset Ammunition, so overall a terrific album.   Job well done Miclordz & Sauce Funky–can't wait to hear more!!
Words By Jimmy Rae
[Rating: 4.5/5]