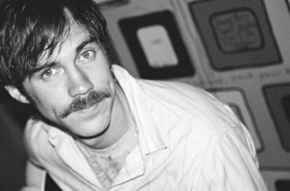 Among the bustling streets of Manhattan, Dan Craig was facing a full day–he was on his way to check in for that night's CMJ show at Banjo Jim's.
Later that day he had scheduled meetings with a management company and an MTV producer. In the interim, he took time to give Skope a New York minute on his new album and the personal sacrifice that brought his music career to fruition.
Supporting the May release of his new album Skin Grows Thin, it wasn't long ago that Dan's life had him heading in a very different direction. Enrolled full-time in medical school and pursuing another career field, his undeniable love of music was ever whispering in his ear. Eventually, Dan knew he had to make a choice between the two.
"There just came a point in school where more and more, I was distracted by my music," he said of his decision to withdraw from school. "I came to the realization that there wasn't going to be a perfect, easy time to do it and that music was what I truly loved."
With a full head of steam towards his music, Dan poured all his creative efforts into 2006's Wirebird and its 2008 follow-up, which Dan claims is similar to its predecessor without being more of the same.
"I think this album is more similar, to me, than to the outside listener (compared to Wirebird)," Dan said. "This [album] was more deliberate and with more collaboration. I think I learned what I was good at in the studio which made it more focused and the dynamics clearer."
Dan's focus this time out instilled an organic facet to his approach to songwriting. Boasting no electric guitar, Skin Grows Thin evokes raw, lush layers within the tracks that he claims: "simply tell stories with a hopefulness and a realism that isn't cynical. I think there is a difference between naïve hope and realistic cynicism; I wanted to find that middle."
Standout tracks from Skin are first single "Further to Fall" which features heartfelt lyrics over demure acoustic strums and brush snare snaps. Peeling back the onion reveals layers of strings, finger picking and backing vocals. "Many Sparrows" crescendos into the chorus and decrescendos back to verses; it is a rollercoaster of time changes and pace. The album title track "Skin Grows Thin" reads like words on the page of a love letter. Backing acoustic guitar provides the foundation to Dan's approachable, yet raspy vocals.
The new album is available in both hard copy and online formats (check CD Baby) and has been met with critical acclaim. Last month "Further to Fall" was featured on an episode of the CW network's "One Tree Hill." Look for two EPs tentatively scheduled for 2009.
Words By Chris West
Photos by Sarah Burghardt