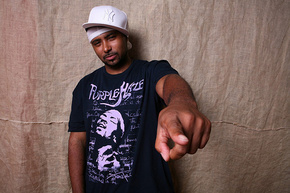 Having achieved considerable notoriety with a vast collection of street albums and mixtapes, independent artist Donny Goines and Same Plate Management are proud to announce the release of Donny's official debut, Minute After Midnight.
The album which boasts Dame Grease as Executive Producer will be available through Amalgam (famed for projects from Joe Budden, Dame Grease, El Da Sensei) on December 16th 2008.
Minute After Midnight, is simply a seamless confirmation that Donny Goines is one of the most prolific artists to watch out for in 2009. An abundance of soulful and unparalleled production selected by the Manhattan lyricist is featured on the album and is laced with Donny's heart-felt, naturalistic and legitimate experiences and stories.
"I am Moving" Directed by Don Hankins and Justin Miller:
[youtube NDOLYEeVc0s nolink]