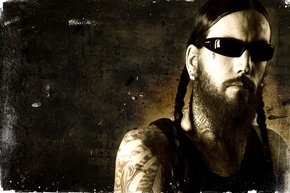 From Korn and crystal meth to going clean and finding Christ, ex-Korn Guitarist Brian 'Head' Welch has been on quite a journey over the years.  
With his debut solo album "Save Me From Myself", and his bestselling book "Washed by Blood: Lessons From My Time with Korn and My Journey to Christ" [both out now], 'Head' has certainly been getting a few things off his chest lately.  
I had the chance to chat with 'Head' for a few minutes, here's a few of the highlights:
Gary:   So tell us a bit about the birth of Driven Music Group:
Head: It just kind of fell into place. The label was called Fortitude, those partners split, and a couple of the guys stuck together… we kept Warner in the mix for distribution…and the rest is history
Gary: I noticed you're building a street team, is that just for the book tour or is there any chance for a concert tour soon?    
Head: I'm hunting for musicians to tour with now… hopefully the first part of 2009, but definitely by mid '09 we'll hit the road.
Gary: Speaking of the road, have you made it back to your 'Head Home' orphanage in India since your trip mentioned in the book?   And how can the fans donate if they want?
Head: I haven't made it back there yet, a lot has happened in the last four years.   I'm still working on settling into my new life.     The future holds endless possibilities.   On my web site under 'Head Dogs' in the fan section of the site, there is information about donating.  
Gary: Any chance you sent the mock 'Cribs' episode touring   'Head Home' to MTV to see if they would run it?
Head: [laugh] Ya… I did, MTV denied it.   MTV wanted to do a Cribs episode with me and I decided to just send them the 'Head Home' footage and if they ran it that's great, otherwise…the answer is No.
HeadTV Cribs   – 'Head Home' Edition:
[youtube Hy1zwfocSHQ nolink]
Gary: Briefly tell us what the clarity of sobriety means to you?
Head: Taking off all the masks…   Being comfortable in your own skin…     Having real fun…   Not feeling like crap all day.   Partying is a backwards effect. You have fun for a few hours and then feel like crap for maybe a whole day or more.
Gary: Tell us a bit about how you found and chose the people to speak about their drug habits in the beginning of the Flush video:
Head: The L.A. Dream center – it's a Christian place.   They opened an abandoned hospital as a 24 hour ministry.   They go find drug addicts and prostitutes to get them off the streets and help them out.   They are real people's stories; I looked for people with similar stories to me.
"Flush" Video:
[youtube Vu6jsQBWhpI nolink]
Gary: For fans that just pick up an album at a record store and look at the track list, tell us a bit about the song 'Die Religion Die'?
Head: A lot of people have a warped view of religion. God is doing a new thing.   When you are bogged down with rules and a strict church you are missing God.   God is everywhere.   Religious mind set needs to change so people can really know God…
Gary: Tell us what Adonai means?
Head: Drugs use to be the master. Adonai is a Hebrew word for God, my master.
Gary: On the future front, can 'Head' fans expect a quick succession of albums or do you plan to take your time between recordings?
Head: I have a bunch of songs… just taking it by one day at a time to see how things go at this point…
Keep track of "Head's" progress on the net at: www.BrianHeadWelch.net
Words By: Gary Jacobs