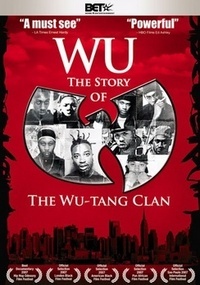 "I'd like to try your Wu-Tang style – Let's begin then!" Now you can own the authorized true story of Wu-Tang, Forever…with "Wu: The Story of The Wu-Tang Clan".  
Brought to you by the Home Entertainment Divisions of BET and Paramount, the DVD offers an inside look at the rise of a rap icon turned cultural phenomenon that went on to sell more than 20 Million records.   You'll also get a rare behind the scenes look at the trials, tribulations…and deaths…that came with that success from some "never before seen interviews, and rare concert footage". The soundtrack is a joint project of Loud and Legacy Records, and is stacked with Wu classics.
"Ooh baby I like it raw, yeah baby I like it raaaw"… Wu fans that have been waiting for the real raw, real deal on what went down will not be disappointed.   This is the must own Wu chronicle for all the dirt on The Clan.   From the formation of one of the most prolific rap crews around, through the tours, the business deals, the solo albums, and the death of Ol' Dirty Bastard – R.I.P. O.D.B. [queue Chris Rock: AKA Dirt Dawg, AKA Dirt McGirt, AKA Big Baby Jesus, AKA Osiris, AKA A Son Unique… I can hear Pookie now].   It goes all the way up to the 2007 tour… you'll come away from this DVD and CD with a degree in Wu-Tangology.
Special interviews with industry Clan fans Bonz Malone, Bobbito Garcia, Wu affiliate Remedy Ross as well as Popa Wu [O.D.B.'s uncle], and many more… come together to add unmatched insight and context into The Clan and what was going on around them through the years.
To all the Wu Warriors that went to heaven before this set in…we say One Love…and to the Soldier Survivors… let's keep The Clan together man!!   Wu-Tang Forever!!
Reviewed by: Gary Jacobs
[Rating: 5/5]