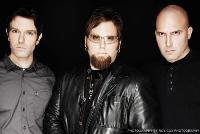 First thing that made me rack my brain was the name of the band.   I was thinking to myself what does it mean and what the hell is the message or meaning behind Girls Liking Cigarettes!   Anyway, I hoped to find out as I listened to the album but unfortunately I still do not know why JUST GIRLS like smoking cigarettes.   The world may never know.   Maybe the message is that and best said by Jack Nicholson in A Few Good Men simply "You Can't Handle the Truth!"   You pertaining to us on the whole and maybe that "US" or "U.S." can't handle the truth or wants to hear it.   Getting way too deep and philosophical–forgive me but the title of this band really makes me think!   How about some "Deep Thoughts" by SNL's Jack Handey people!   Ha-ha
Girls Like Cigarettes include Joe Black on vocals and bass, Pat Fisher on guitar and Jeff Reed on drums.   Three members and just three songs on this record, how IRONIC!   "Don't ya think?" (Morissette)   I noticed right away when taking in these three tracks that the sound was very distinct.   GLC offers a pop sensation, but with an off-beat, alternative side thanks in part to Black's lyrics.   Alt-Pop would be the best way to describe the sound.
Listen up though because GLC and this album does not offer poppy happiness and sunshine–exact opposite as a matter of fact.   You're not getting NSYNC or Backstreet Boys–You're getting deep and purposeful, disturbing lines. Wishing his ex to be sucked into the propeller of a plane to Black chanting over and over that he wants to die seems out there for sure.   After hearing Black's pain, hurt and loss expressed loud and clear–you just wanna give this guy a big HUG or somethin'!   lol
On a serious note, I now see what GLC was going for and they accomplished that.   Pop sound with a dark undertone is what you get.   With titles like, "Combustible You", "Beautiful Death Machines" and "Everything Must Break" you can already get a sense of what to expect.   It's almost like playing a trick on "Pop" by incorporating happy-go lucky phrases with horrid and dismal takes.   Very interesting and very different I must say, sound of its own.
I love the jam session feel of "Beautiful Death Machines" in the beginning.   You get that sense of just lay everything on the line and just jam the hell out.   Black, Reed and Fisher really came together on this track and showed their wonderful band chemistry.   Overall, I wasn't really feelin' this short set of songs, but maybe it will take me a few listens.   Who knows, maybe I will finally found out WHY GIRLS LIKE CIGARETTES!!
Definitely a band to watch out for on the Alternative scene, so keep your eyes out for Girls Like Cigarettes.   SKOPE it out for yourself and see if you can't figure out the riddle because I sure as hell can't—yet.  
By Jimmy Rae
[Rating: 3/5]