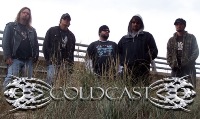 Definitely, no question about it this is straight up METAL!   I would say Death Metal, but not the kind that's speedy and erratically fast.   There is plenty of shredding on guitar and vocals that would wake the dead, but no mile-a-minute riffs here.   The pace is calm, but the music is still heavy-hittin'!
Coldcast is made up of Davy Sheets on guitar, Tom Janule on guitar, Kevin Elder on drums, James Talaske on vocals and Tyler Haskell on bass.   When listening to this album, I picked up right away that these Virginia natives were well-versed all around.     Each member had a role in the band and from the sound of things they were able to bring all together.   Solid Sound from the entire band, so thumbs on that aspect!
I have to say though lead singer, James Talaske, really scared the hell out of me when hearing his monstrous delivery.   The change of voice to emulate an almost evil-like and menacing presence is evident throughout the record. Now, speaking in terms of Heaven and Hell the feel of the music would definitely lean more toward the side of Hell, in my opinion and figuratively speaking of course.  
I am blown away by bands like this where singers can scream at the top of their lungs, yet still have a voice by the end of the day let alone say 10 years down the road!   By also distorting their voice at a drop of a hat just seems so unnatural to your voice box, but does seem to pay off for some.   I really respect this distinctive art and give major props to vocalists that are able to withstand the punishment and time–ACDC Forever!   So Talaske, I applaud you for accomplishing this feat–job well done!
Overall, I would say this record exhibits a lot of potential in the realm of Death/Scary-ASS Metal and Coldcast may be on their way.   Now, this isn't my type of music but that's what makes the world go around–VARIETY.   It is the spice of life and if your spice is Metal with a heavy dash of the dark side, then Coldcast is your perfect remedy.   Also like to add looking into the future of Coldcast, love to hear more of Talaske's real voice next time.   Hearing a true and natural voice mixed in with the rest might add a refreshing dimension to their music.   Just an insightful thought and helpful comment I wanted to offer.   So then, Eight new songs to SKOPE out– take a listen and hear it for yourself.  
Words By: Jimmy Rae
[Rating: 3/5]