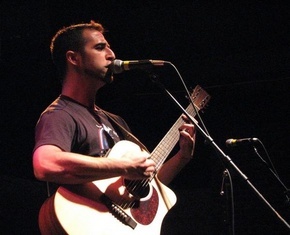 Matt Shwachman took time from his crazy schedule to talk with Stoli all about the 12/6 show. Matt has a very loyal following in New England so with him opening up the night expect lines at the door early on. This guy is the real deal!
Stoli: How did it feel when you confirmed that you would be playing the 2008 Skope Live Holiday Bash?
Matt Shwachman: My band and I were thrilled to be chosen to play the 2008 Skope Live Holiday Bash. We were especially excited to be involved since the show is also a benefit and raising money and awareness for Autism.
Stoli: What singles, albums, or EP's have you put out recently so people can get familiar with your sound if they are not already?
Matt Shwachman: My new album, Uncharted Territory is the latest release and is available on I-tunes and Cd Baby. The latest single is a song called Rise Above, which has gotten great reviews from many publications, including Skope! People can also listen for free at our myspace page, www.myspace.com/mattshwachman.
Stoli: How do you determine what songs that you will play for this big show?
Matt Shwachman: We look at this as a showcase type of set and will feature our strongest original material. We will most likely include a couple of covers though to keep the crowd involved if they haven't heard our music before.
Stoli: Have you ever played Bill's Bar before & if yes, how was that set?
Matt Shwachman: Bill's Bar is actually one of the few larger clubs in Boston that we have yet to play, so we are excited to make our presence felt there.
Stoli: What other bands on the bill are you excited to watch?
Matt Shwachman: We are really excited to see all the bands — Meet the Day, The Vital Might, & Forgetful Jones. Skope did a great job of putting together an awesome bill and we are excited to be a part of it.
Stoli: What is one of your favorite things about playing live in Boston?
Matt Shwachman: We love playing Boston as it is home for us. Boston takes their sports and music seriously. We actually recently had one of the largest concert promoters in NYC tell us after our set that he thinks that the Boston bands tend to put on better shows than the NYC bands. We took that as a big compliment and are always proud to be representing Beantown.
Stoli: What do you do to let all your fans know about the 12/6 show? Will any family members come out to show support?
Matt Shwachman: We promote grass roots style by word of mouth, calls, and texts. We send out emails to our mailing lists and use social networking sites like Myspace and Facebook to let our fans know when and where we are playing. We are hoping that some family members will be in attendance. I invited my folks to the show a week ago and had my Mom mark her calendar so it would be nice if they came.
Stoli: Before you go on to play, what must you do to get ready to play?
Matt Shwachman: I don't know that we do anything special to get ready. We tend to stay pretty lose as a band are always eager and ready to take the stage. Like most bands we do like to make sure that our sound is good prior to playing and that we have a good mix of the instruments in our monitors on stage.
Stoli: The show is on 12/6 so will you do anything special to close out 2008 that night?
Matt Shwachman: We actually have about a half dozen more shows planned after this one in 2008 including a First Night Show so I wasn't really thinking of it in terms of ending '08. It will be great though to get in the holiday spirit and start celebrating early.
Stoli: Skope Live! is used as a medium to help raise awareness & money for Autism Speaks. What are your thoughts on Autism and have you been directly effected?
Matt Shwachman: Again, we couldn't be happier about being involved and raising awareness & money for Autism. That really makes this a special night for us. My ex-girlfriend worked with many special need children, some with Autism, and we would regularly discuss how it was disheartening to see all these young children with these extremely challenging diseases like Autism. As a band, we are really excited to be involved and contribute in raising money and awareness for Autism.
Stoli: What is your favorite element of playing to a live audience?
Matt Shwachman: The energy of the crowd is hands down my favorite thing about playing to a live audience. When the crowd is hyped we really feedback on that energy and return the favor.
Stoli: What should my readers know before they come see you play on 12/6?
Matt Shwachman: Readers should know that they are in for a great night of music which is supporting a great cause. They should be ready to be "Shwached and awed" and to have their sox rocked off!
Matt Shwachman: Thanks Stoli!
Photo: Harpers Ferry 6-23-08. Pic Courtesy of Funkluvah