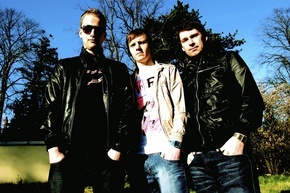 The Japanese Popstars 'We Just Are' coming February 24, 2009. Native to Northern Ireland, The Japanese Popstars are not really Japanese Popstars (any fetishists expecting cute Japanese girls can leave now).
Rather, this trio of mates – Declan McLaughlin, Gary Curran and Gareth Donoghue – is taking the UK by storm by creating a live electronic music experience that harkens back to the days of vintage Chemical Brothers, Orbital and Underworld. Riding a wave of great live gigs, major festival bookings, and UK media praise off the back off the overseas release of We Just Are, Japanese Popstars are now ready for North America.
"Face Melter"
[youtube AknY-tcKE-s nolink]
"Rise Of Ulysses"  
[youtube USjLH_wkbbc nolink]
"Delboys Revenge"
[youtube FXMADU12GdQ nolink]
The Japanese Popstars aren't indie rave, or any other sub-sub-sub genre, theirs is big room, cool as f**k electronic music built for festivals and stadiums. They're not dance kids aping indie kids, nor are they indie kids dropping synths and calling themselves 'ravers'. In fact, The Japanese Popstars only parallel with rock music is that they built up a sizable live following before releasing their first major single — some might even say cultish. Judging by the amount of clips on Youtube, their gigs are typically raucous affairs with an energy that crackles with each beat, chord and keyboard stab.  
"Electronic Poet" Mp3: