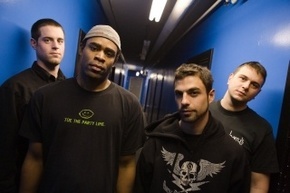 On December 6, 2008 there is going to be a huge party going on at Bill's Bar in Boston, MA. One of the four bands playing that night is Forgetful Jones. We caught up with the boys to see what they are up to and how they are getting ready for the show!
Stoli: How did it feel when you confirmed that you would be playing the 2008 Skope Live Holiday Bash?
Forgetful Jones: It's always a pleasure to be a part of any kind of show that raises money for a good cause.
Stoli: What singles, albums, or EP's have you put out recently so people can get familiar with your sound if they are not already?
Forgetful Jones: Forgetful Jones released their first full length album coincidently entitled "The Album" in January of 2007. We are currently working on our second full length album to be released in the early Spring of 2009.
Stoli: How do you determine what songs that you will play for this big show?
Forgetful Jones: We always strive to keep the sets full of original material with the possibility of a cover if it's a crowd pleaser. The set will be a combination of some songs recorded on our first album mixed with some of the newer material to get the fans familiar with what's to come on the new record.
Stoli: Have you ever played Bill's Bar before & if yes, hiow was that set?
Forgetful Jones: We have played Bill's Bar several times in the last few years and it's always been a great venue with an amazing crowd .
Stoli: What other bands on the bill are you excited to watch?
Forgetful Jones: The Vital Might looks to be a band to watch…we've actually shared the stage with their drummer in a previous project.
Stoli: What is one of your favorite things about playing live in Boston?
Forgetful Jones: Boston is a city with so many historic and well built rock venues that it's almost easy to put on a great show…not to mention the soul and devotion to music people have in this area.
Stoli: What do you do to let all your fans know about the 12/6 show? Will any family members come out to show support?
Forgetful Jones: We use the term family loosely so we expect to see plenty of them there, as always. We use facebook, myspace and our email list to get the word out to everyone before our shows.
Stoli: Before you go on to play, what must you do to get ready to play?
Forgetful Jones: Aside from a bit of stretching and warming up we're always ready to play.
Stoli: The show is on 12/6 so will you do anything special to close out 2008 that night?
Forgetful Jones: This show will most likely be our last of 2008 so the plan is to give it everything we've got and get as many of the fans out to see us as possible.
Stoli: Skope Live! is used as a medium to help raise awareness & money for Autism Speaks. What are your thoughts on Autism and have you been directly effected?
Forgetful Jones: Several of our significant others have worked in various areas of education relating to children and adults alike with developmental disorders and / or special educational needs. Unfortunately, enough resources aren't available to properly support everyone out there who has a family member or friend in need of the day to day assistance so being a part of something like this is always an honor. Awareness is at the forefront of creating an environment in which we can collectively support those individuals in need.
Stoli: What is your favorite element of playing to a live audience?
Forgetful Jones: Feeding off of the crowd's energy always increases our ability to play and perform our best. The most rewarding part of the whole process is seeing the fun and enjoyment everyone is having as a direct results of the music we're created together.
Stoli: What should my readers know before they come see you play on 12/6?
Forgetful Jones: Forgetul Jones is a hard-hitting rock / funk / blues / metal hybrid that is aboslutely going to make you glad you came out to see us.
Stoli: Thank you!
Forgetful Jones: No, Thank You!