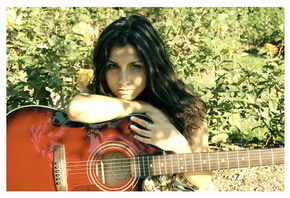 My next guest is an incredibly talented musician from New Jersey. Her voice draws you in and her songwriting is real & personal. She is only 23 but her music is years beyond her age. Join me as we talk about her latest EP, the election, life, charity work and much more!
Stoli: You have been writing songs since the age of 18. How would you say that your writing has matured from 18 to 24?
Justina: I think the natural process of growing up and going through more experiences as a young adult opens your eyes to a lot of things. I think now, more so than ever, I just want to be honest in my music, and not have to censor myself. I think music should always be honest. I have also grown to be more metaphoric with the way I write my lyrics, and I try to think outside of the box… Metaphorically honest, would that be an oxymoron? Hahhahah…
Stoli: Why did you decide to title your latest EP release as 'The Last One Standing?'
Justina: After doing pre-production on all of the final songs I decided to place on this demo, I realized that all of the songs chosen had the same underlying theme: Rejection. It's like when you're in grade school gym class and everyone's picking teams. It's down to just you, and both team captains just kinda look at each other like they don't know what to do with you, they don't know where you fit. That's kinda how I felt after being rejected by the first few labels I shopped to. The title "Last One Standing" just seemed so fitting. Rejection happens to everyone, but it's part of life. This collection of songs is dedicated to anyone who is going through that.
Stoli: What kind of mental state do you have to be in when you set out to create new music?
Justina: I think I write a lot in Retrospect. I don't know why that is, but it seems like whenever I try to write in the moment, I have a hard time sorting out thoughts. It is too overwhelming, especially when it comes to love and breakups. I like to let some time go by and look at things from a distance and it is usually then that I can figure out exactly what I was thinking and find better words to say it in song.
Stoli: As a young and attractive woman, you must have your experiences with love. How much does your personal life come out in your songwriting?
Justina: Although I do enjoy writing about fictional scenarios, and situations other than love, a majority is based off of my own personal life, and I think it's just what comes most natural to me. I am an emotionally driven person, I like to write from the heart and keep things as honest as possible. I don't want to bore people with my problems though, so I usually try to find a good balance between fact and fiction.
Justina "Formula" Video:
Stoli: You have developed an impressive portfolio of music, videos, images, etc. How important is signing to a major label or are you happy pursuing the indie route?
Justina: Thanks! Signing with a major label used to be my main goal with my career, but I think the majors are in pretty bad shape these days. I am pretty comfortable with where I am at as far as being able to put out the music I make, and make the videos I make at my own pace, and not really have anyone breathing down my neck, trying to create another pop star. I think there is a lot of control the majors have over their artists, and to me that is really a shame. I don't mind pursuing the indie route. It does get tough though, budget-wise, to not be able to do certain things like record full albums, or do nation wide touring because I still have a day job.          
Stoli: Coming up as a musician what other female singer/songwriters did you admire & why?
Justina: I really admire lyricists like Stevie Nicks, Jewel, and Vanessa Carlton because they always have an interesting story to tell, whether it's fictional or real. They know how to draw you in. I also really admire strong vocalists like Christina Aguilera, Pat Benatar, and Janis Joplin because there is an incredible rawness about all of their vocals. If you hear anyone of them on the radio, you would recognize them right because they all have a unique style. It's important to have something that sets you apart from the rest. That's how people remember you.  
Stoli: With the election coming up next week what issue is the most important to you when you vote?
Justina: Although I do think this is probably the most controversial election of my life so far, I really try to keep politics out of my songwriting. I am planning to vote this election, but I really don't believe in preaching my beliefs to people whether it's about politics or religion, because I don't think it changes anything. Everyone has their own beliefs. To each their own, who am I to judge about what others believe?
Stoli: When you are preparing to perform live, what do you do to get prepared?
Justina: I don't really have any special pre-show rituals.   I do warm up on my guitar, and my vocals though.   I used to get really nervous before shows, so I used to put on "My Sherona" and dance off the pre-stage butterflies. It kinda helped, hehehe.
Stoli: In 2005, you donated a song "Believe" to help raise money for Cancer & blood disorders. What made you choose this worthy cause?
Justina: I was in NYC doing a photo shoot back in 2005, and the building I was in was holding this benefit for this organization called Lainie's Angels.   We had asked if I could sing a few songs for them, but they didn't have a microphone or equipment, but they were interested in having me involved with the organization in some way. They were holding a soccer event that October, which they asked me to sing at and I agreed to gladly.   While I was there, I decided to check out the merch booth, and I saw a greeting card with the angel logo and the word "Believe" on it. I had already written a song called "Believe" a couple years prior to this experience, so I thought it was so fitting to donate the song to such a cause. So I talked with the founder, Stathi Afendoulis, whose daughter Lainie had lost her battle with the awful disease in 2000. He told my family and I Lainie's story and I just felt like I had to do something to help raise awareness. I ended up recording the song for them on a CD Single, and now they sell the CDs at their events. All of the proceeds go back into the organization.   I have been singing "Believe" at their soccer event every October for about 5 years now. If I can touch people's lives with a song, then I have done my job as a songwriter :-D. You can learn more about how you can help out Lainie's Angels at www.LainiesAngels.com!
Stoli: When you are not working on your music career what do you like to do in your own time off?
Justina: I like to support my fellow musicians, I like to go to other bands' shows and listen to the new music out there. I also like to collage furniture, and paint. I like to read a lot, I have become quite the book nerd lately! I love the works of Francesca Lia Block and Stephenie Meyer.
Stoli: If there was one thing you want my readers to know about Justina what would that be?
Justina: It's been a long hard road so far and it's such a struggle to get your music heard as an up and coming musician. I just want people to listen to my music and feel like they know me. Because that is what my music is: it's my love, my anger, my humor, and my sadness. It's just me, and I hope I can inspire others to share their stories as well whether it's through music, poetry, paintings, or any other art form! :-D
Stoli: Thank you, all the best!
Justina: Thank you so much!!