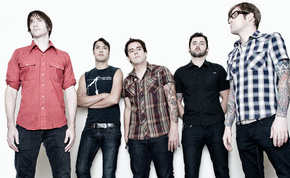 In the wake of a somewhat checkered past, one that conjures up images of broken teeth and lacerated body parts, Austin-by-way-of-Denton, TX's Riverboat Gamblers return this coming Spring 2009 with a new album, "Underneath The Owl" out March 10th 2009.
Riverboat Gamblers have released the first single, "A Choppy, Yet Sincere Apology" from their new album and encourage fans and casual freeloaders alike to download the DRM-free mp3 from either the band's own website or their pages on iLike and PureVolume.
Download and Share "A Choppy, Yet Sincere Apology":
Riverboat Gamblers "Underneath The Owl" was recorded and produced by the "band ruining Famous Hollywood Producer" Mudrock, and will arrive in stores and online March 10, 2009.