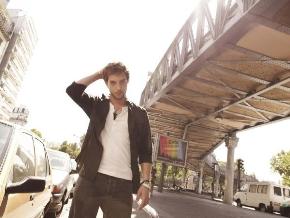 We now have the new music video from artist James Morrison for his song "Nothing Ever Hurt Like You" from his latest album entitled Songs for You, Truths for Me.
"Nothing Ever Hurt Like You" video:
James Morrison embeddable music player:
A testimony to the strength of the songs on James Morrison's debut album Undiscovered is that it yielded no fewer than five singles — You Give Me Something, Wonderful World, The Pieces Don't Fit Anymore, Undiscovered and One Last Chance. The songs were simple yet beautifully written, each giving James's raw, bluesy voice a platform to work its powerful magic. There was no bullshit, no clichés, no schmaltz. And a lot of people liked that.
Undiscovered went to No 1 in Britain, Top 20 in America and won him the 2007 Brit Award for Best Male (he was also nominated for Best Single and Best Newcomer). James's debut sold over two million copies worldwide and he became the biggest selling British male solo artist of 2006. He was just 21 — but had already accumulated enough life experience to give his candid folk-soul songs genuine emotional content. By many people's standards he'd had a tough, itinerant childhood, a broken family and endless house moves — although he'd be the first to shrug and say it was no big deal. But he'd also admit that most of the emotion in his singing has come from his upbringing.