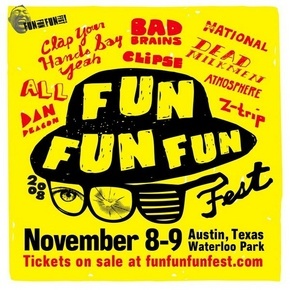 Well rested and sober as a baby, it seems I have made a full recuperation from my 2nd year at the 3rd annual Fun Fun Fun Fest, held in the beautiful Waterloo Park, Austin Texas. Fun X3 Fest is one of many music festivals that happen year around in these parts, but this festival has truly done things the right way. What is the right way, you ask?
Well, by staying slightly under the radar, Fun Fun Fun has managed to continually bring in the best "up and coming" bands of the year, mixed with bands you didn't even know where still together. With enough of the right sponsors to get people out, and not over saturate the park with music seeking zombies, all struggling to see the same stage.
Fun Fun Fest 2008 – Austin, TX – IMAGE GALLERY:
SKOPE IT HERE!

My team and I started early on Saturday, the first fun fun day. Arriving promptly at 12:45, I had just enough time to settle in to the new layout and find the free drinks before FRANK SMITH, a local Alt. Country band, got started. This 4 piece has really been making a name for themselves and their genre all over Austin. Their set was rhythmic, without fault, and full of Texas flavor. Singer, Aaron Sinclair delivers a somber yet promising vocal accompanied by beautiful harmonies from Bass player Kyle Robarge. Their set showcased a solid peek at their new record, "Big Strike in Silver City." Currently in the wraps, this record is set to release in early 09, following their 2007 release, "Heavy Handed Peace and Love," on Ye Olde Records. On to the next show… DENGUE FEVER, which is actually an acute febrile disease found in the tropics of Africa, has proven to hold a different meaning.   This Cambodian pop band, ironically from LA, is opposite of its innovative name. The sweet, angelic and ethnic vocal of singer, Chhom Nimol, along with her captivating smile won my heart instantly. The musicianship of this group is prominent, and had me in a trance from the first note. I also want to mention, high energy bass player, Senon Williams. I couldn't take my eyes off of him. Constantly in motion, he hopped, jumped, skipped and actually humped his bass a few times, that's hot shit right there. Some more of my mid-day highlights include Texas based Indie Rock bands, PARTS AND LABOUR, followed by CENTRO-MATIC, THE OCTOPUS PROJECT, BROWNOUT!, and TRAIL OF DEAD.    
This is where the day really gets good, the Sun was setting, the artificial light illuminating the stage, the cool air was a-blowin and DEERHOOF was about to rock my head right off my body. Among a sea of enthusiastic fans, Deerhoof approached us head on with a tiger head on, literally. Singer, Satomi Matsuzaki wore a huge stuffed tiger head covering her own and continually pounced and bounced around like a little jumping bean, while lunging and pawing at us throughout the first tune. Had to be the cutest thing I've seen since Bjork's performance at ACL, so nimble. Each member of this San Francisco foursome is extraordinarily talented at their instrument. I have to mention Drummer Greg Saunier, who played the tiniest drum kit probably ever made, and made it sound huge. With just a kick, a snare and a few symbols, the intensity of his performance was outstanding. Numerous characteristics explain Deerhoof's unique noise rock with peculiar melodies and inconsistent beats. Their live set was almost equivalent to any recording I've heard, and in my opinion, they stole the show. How can there be a following band after such a brilliant act you say? Well ATMOSPHERE did just that, and wouldn't go down without a fight. MC Slug's simple yet powerful lyrical delivery gave me chills as my body was forced to groove to his live band. DJ/Producer Ant brought the beat and always serves us well. Slug and Ant together have made Atmosphere what it is today, taking it from the underground streets of Minnesota straight to the big time. They did all this without compromising their integrity, staying true to the roots of their genre. Rhymesayers Entertainment, a label co-founded by this dream team has taken hip hop by storm. Their show definitely made it to the top of my favorites list and judging by the crowd, I wasn't alone in this decision.    
As the day came to an end, drinks running dry, port-o-potties reaching limits, and my bed screaming my name… I looked back on a killer first day as DJ Z-trip took us out with a little Bohemian Rhapsody by queen. In fact I'm not sure why he played this festival at all considering, all he did was play records from the early 90's. Like actual full songs, no match-ups, no scratching. But, there's nothing like a good Queen sing-a-long to put the cap on a great day.  
After a good nights rest that ran well over into the afternoon, I approached day two at around 4pm with still a good amount of tunes to left to see. First up were Austin locals, THE BLACK ANGELS, who always put on a pretty good rock show. I've seen them a few times, and they well deserve any hype they get, this performance was unlike any other. The Angels will be finishing the year touring Europe, spreading their psychedelic seed. The next act comes in the form of a master re-inventor that well surpasses the likes of Madonna. Keith Thornton, doesn't reinvent his look, he reinvents his sound in many ways but his method is noticeably his own. KOOL KEITH and Dr. OCTAGON are just two of his many incarnations. Keith is recognized as a ground-breaking rhymester whose words and melodies have rocked this generation. I felt privileged to catch such a great show, the crowd was going nuts. I left Keith early to make sure I had a good spot at what was predicted to be my favorite part of this festival we call fun… MINUS THE BEAR.    
I caught a few songs from ST. VINCENT on the walk over, her voice is so soothing. It was pleasant, but my mood was far too red-bullied and eager to deal with her sleepy-time antics. Dun dun dun… the lights lowered, the crowd roared, it was time, Minus the Bear time, a time that I had waited all week, month, and year for! They played an astonishing set; jam packed with a variety of songs from their original discography. Half way through their set, singer/guitarist Jake Snider and Lead guitarist Dave Knudson dumbed down and went acoustic for two short songs which appear on their recent Acoustic EP. This was a slight mistake. "Guns and Ammo," and the well known "Pachuca Sunrise" were the two acoustic joints chosen. As the crowd lost interest for a brief moment, I couldn't help but wonder why they'd choose to destroy such a perfect song by taking it to the acoustic side. Standing in front of a wall of solid white Mesa Amps, his feet lined with petals for days, I got the second hand view of Knudson's unique electric guitar sound. Yeah, I said it… I viewed his sound, and his two-handed finger tapping method, I've heard so much about. As the set came to an end, the sun had gone to bed; I started making my tired, dirty and highly intoxicated journey toward the exit sign. It was time to end my enjoyment at the Fun Fun Fun Fest, as it was proving not so fun anymore. I love you fun fun fun, and I'll see you next year.      
Words By: Ginger Hebert – gingerh@skopemagazine.com
Photos By: Ginger Hebert & Ryan Chahanovich