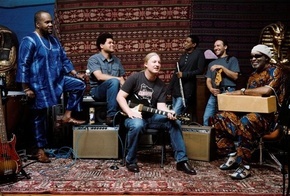 One of the most critically acclaimed guitarists and the youngest musician to be named in Rolling Stone's list of the Top Hundred Guitarists of All Time, Derek Trucks has completed his much anticipated sixth studio album with The Derek Trucks Band, Already Free, available January 13, 2009.
As well, the album's first single, a stirring cover of Bob Dylan and The Band's "Down in the Flood" from the album The Basement Tapes, is set for release November 4th.
"Down In The Flood" stream:
The album was self-produced by Trucks and recorded in his Jacksonville, Florida home studio. Nearly a year in the making and brimming with a newfound focus on creating original material, Already Free is the band's natural evolution as they move forward integrating influences that span a variety of musical genres. Known for their blues roots, the group takes this album well beyond blues to incorporate the larger sounds of rock & soul.
Over the course of several albums, various bands and countless tours, Trucks has explored an exciting array of musical styles. On Already Free, Trucks has written original songs and reinvigorated old ones, introducing a profound new vision. One hears blues, soul, jazz, flourishes of world music from afro-beat to qawwali, even the advanced tonalities of the modern European masters.
FULL TRACK LISTING:
1. Down In The Flood
2. Something To Make You Happy
3. Maybe This Time
4. Sweet Inspiration
5. Don't Miss Me
6. Get What You Deserve
7. Our Love
8. Down Don't Bother Me
9. Days Is Almost Gone
10. Back Where I Started
11. I Know
12. Already Free