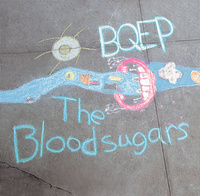 The Bloodsugars are bringing that fun and loose side back to rock & roll with this one.   Girls aren't the only ones that just wanna have fun, this quartet of men known as The Bloodsugars are craving that sweet sound of rock.   You'll get a big spoonful of sugar that will get your blood pumpin' on BQEP.
One aspect that really stood out to me when listening to this short album was the dominating drum beat.   Kenneth Salters isn't just simply keeping the beat, he is the backbone of each song.   The drums can be heard loud and clear on each track and it is clear that Salters is the master of his domain.   Just a complete pleasure to listen to and made me think of Led Zeppelin's "When the Levee Breaks" with that amazing drum sound by one of the best ever.   I seriously wanted to get back into drums and find my old drum pad from grade school!
Jason Rabinowitz offers impressive vocal capabilities with fine harmonies and add in catchy riffs by Brendan O'Grady on bass and Matt Katz on synths.   Yes, that's right SYNTHS!   Katz and company go away from that guitar-heavy rock sound we're all used to and take a trip back to the 80s by adding synthy poppiness.   Big fan of the 80s and 80s music so in the words of Loverboy, "I'm Lovin' Every Minute of It".  
Catchy beats and hook-line-and-sinkers engulf this entire album.   The crowd-pleaser and my favorite cut on BQEP happen to be "Bloody Mary" with its stick-to-you-like-glue vibe.   Just six tracks on this record, but The Bloodsugars take advantage of each and every second on BQEP.   Short, but sweet is the best way to describe this album so get your dose of The Bloodsugars today!  
Words By: Jimmy Rae  
[Rating: 4.5/5]