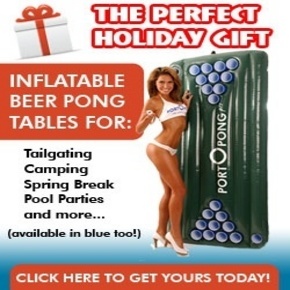 You can never tell what an entrepreneur will come up with next. It is kind of like you never know what song a musician will create next. My next guest is the co-founder of Portopong. Portopong was created in March 2007 by Jerry Piscitelli and Sal Laudano, two friends who love beer, beer pong & music. They have created an inflatable device to play beer pong or beirut anywhere and on anything. This company knows the power of music and they knows music is the most powerful marketing medium. Read on and you will see!
Stoli: The company began in 2007. What inspired you to come up with an inflatable beer pong table?
Jerry: My best friend Sal and I were trying to think of something fun to do while on vacation – when we said we wanted to play beer pong in the pool – the idea just hit us! Then it spawned into being able to play at tailgates, concerts, and more.
Stoli: What is your favorite beer to drink while playing beer pong?
Jerry: Well we wouldn't want to endorse anyone – but Bud Light is pretty much the choice for us.
Stoli: While spending time on your site I noticed that allot of young & attractive women love playing, how did you get so lucky?
Jerry: Big shout out to Reby Sky and our friend Mark Crimsond. The world of social networking gave us the ability to reach out to some great people and the response to theproduct and idea turned into those great photos you are referring to.
Reby has been a great friend to us for taking all the pix – she is a real high class model.
Mark has been awesome too – he got tons of great responses from Jersey girls who wanted to pose next to our product and the end result is some great stuff – our favorite is – "two girls on towel"
And the regular event pix too we noticed that we had more ladies then guys buying from us.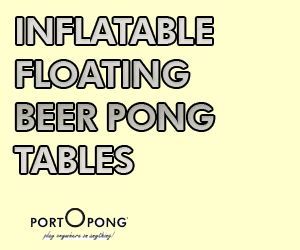 Stoli: How did you start to make the very first Porto Pong and how long did it take?
Took about 3-4 months from design to sample – and took a lot of researching on similar made products.
Stoli: For those not familiar with beer pong, what are the rules in a nutshell?
Jerry: Ball goes in the cup, cup comes off the table, first team to remove all the cups win! Haha
Stoli: Who have you found are your target consumers that buy the most Porto Pongs?
Jerry: The ladies are amongst the highest! Then it goes to the Moms and Dads – you heard me – we have had our fair share of concerned parents calling us to make sure the portOpong they ordered gets to them in time for their kids 21st birthday party.
Stoli: Where can my readers go to buy a Porto Pong and how mucn are they?
www.portopong.com is one place – but we are found on many online retailers – just Google portopong and we can be found! And we are priced at $49.99
Stoli: Porto Pong is a major sponsor of the band Warner Drive (www.warnerdrive.com). What is the motivation behind this and are you seeking other bands as well?
Jerry: The cross promotion that exists in supporting bands is huge for us – we share the same demographic and our sales manager is good friends with warner drive and they totally have the potential to be the next offspring one day and we want to support them so they can invite us to kick ass concerts!
Stoli: What music genre is best when you are having a huge beer pong game? What music do you like to play when playing?
Jerry: Not to sound like someone plugging the band – but Warner Drives – the Shocker is pretty fun to listen to – puts you in a good lets get the party started mood.
Stoli: Would you say that the more beer players drink the better they play or vice versa?
Jerry: You know – they say that the more you drink the more your motor skills slow down – but man I have seen some people come back from 1 cup on the table to winning it all. That speaks for itself.
Stoli: If a beer pong enthusiast wants to try out the Porto Pong, where can they do that?
Jerry: Besides buying one from us – the Flamingo Casino in Vegas rents them out at the pool, Olives Bar in RI hosts portopong tournaments weekly, and we are starting to build more relationships with bar owners to do the same. So tell your readers to have their favorite bar contact us.
Stoli: What do you see as the future for beer pong and would you say that as long as college enrollments remain high so will sales?
Jerry: Actually we have had some really big companies talk to us, so it is well past the college stigma – and is becoming more main stream as time passes – We are official sponsors of the World Series Of Beer Pong – that offers $50K to the winning team – that has attracted attention of the times and the wall street journal.
I would say inside a year that you may see it on the "ocho" or something. (movie reference to dodgeball movie)
Stoli: Please tell my readers anything about Porto Pong that I may have missed?
Jerry: Nothing that I think – just remember that we are the original inflatable beer pong table company and our invention is made of the highest quality material (this is not a beach ball) – more like a army air bed. A buddy of ours who is closing in on the 300lb mark has slept on this thing! So don't judge it until you've tried it!
Stoli: Thank you!
Jerry: Cheers!
 
www.portopong.com