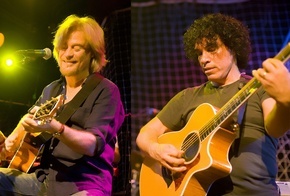 Thirty-five years since Daryl Hall and John Oates last performed at the Los Angeles Troubadour as an opening act, they returned in May of 2008 for two nights where they delighted fans with a nonstop barrage of unforgettable hits.  
On November 25 Shout! Factory will release Daryl Hall and John Oates: Live at the Troubadour, a two-hour, 19 song concert on DVD, Blu-Ray, and a 3-disc set containing the DVD and full concert spread across 2 CDs.  
Audio Streams:
Video Streams:
In May 2008, Daryl Hall and John Oates took the stage at the legendary Troubadour for the first time since playing their earliest Los Angeles shows there 35 years before. The best performances from this much anticipated two-night concert, which included hits such as "Maneater," "Private Eyes," "Rich Girl," "Sara Smile" and "Kiss On My List," will be made available in three formats — DVD, Blu-Ray, and a 1-DVD/2-CD combo, via Shout! Factory on November 25.
"John and I have a lot of great memories associated with performing at the Troubadour, since it was our first show in LA," said Daryl. "It's like going back to where it all began for us. We've always had an enthusiastic following in Los Angeles, and this is a chance for our fans to see us up close and personal in an intimate setting."