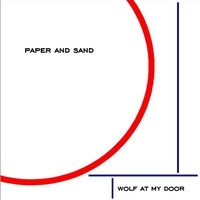 On the Brooklyn rockers' debut, Paper and Sand live up to their moniker–crafting songs that combine abrasive, aggressive guitars with precise and delicate arrangements. Singer/guitarist Wil Farr leads by example. His unique vocal styling has all the gruff of an indie rocker complimented with all the smoothness of a soul singer.   When he lets loose on a chorus, his voice spurts out like a shaken beer keg that's sprung a leak.  
The politically charged opener "Age Of Imperials," led by Adam Christgau's thunderous yet elegant drumming, is a two-man ambush of guitars and pedal effects that builds itself up and then tears it down with frenetic breakdowns and Farr's searing vocals.   On "A Million Miles," Farr, lead guitarist Jonathan Jetter, and bassist Jeff Ratner lay down a thick, choppy groove culminating in a crazed yet composed chorus where Farr sings: "You're giving me a reason to not give in, you're making it so easy to just become a stone cold killer."
The mournful "I Lost My Head" glides on the bittersweet guitars of Farr and Jetter and builds up to a final deafening chorus.   "The Cruelest Joke" is such a gem they include an acoustic version as a hidden track. In the epic full-band version, P&S ride Jetter's lead line through soft verses and mammoth choruses with Farr wailing, "we all long to be inside a lover's arms, like sailors scanning the sea for wreckage on a distant shore." This line exemplifies Farr's struggle, searching for shelter where there are many traps.
These songs are angry yet cathartic, bitter yet catchy, vengeful yet sorrowful. The proverbial wolf hounding Farr in his songs appears to be the people, especially women, who've done him wrong. Rather than be haunted by it, Farr uses his guitar and his band as the silver bullet to keep the monsters at bay.
Words by Bill Reese
[Rating: 4/5]