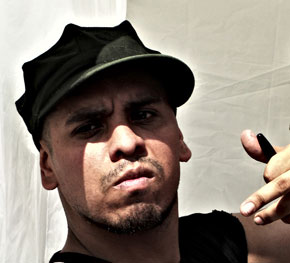 Immortal Technique is a master lyricist who isn't afraid to express the truth in his rhymes. He goes to bat for the subjugated and oppressed and calls out all the fakers and conniving perpetrators that keep people down. His hyper-political message is brutal and effective, he spits venom in his frenetic flows.

Supported by the slamming beats of DJ Green Lantern the new album The 3rd World is a burning indictment against the powers that be. I had a chance to get an inside view of the mind behind the message. Check out the interview here only at Skope.
Listen to "The 3rd World"
[audio:Immortal Technique_The 3rd World.mp3]
SKOPE: How did growing up in Harlem shape you as a musician? How does your international perspective influence you?
IMT: I think that more than anything it provided a Revolutionary influence to the music and to the message that was structured around it and in it. I understand an urban environment and a mix of Black and Latino and how our struggle is often misrepresented, oversimplified, vilified, and ignored. The creators of Hip Hop saw this generation with the potential to change the minds of Americans all over the country. Some say that this change can only be done by galvanizing youth through the political mechanisms of a 2 party system. I disagree. I think that my experience and understanding of the struggles of the world show that organizing democratically is only a small piece of a much larger picture that places the responsibility of creating a government on the shoulders of the people. But voting is not the end of that. It is just the beginning.
SKOPE: Tell me a little about your early career as an emcee — what were the battle days like?
IMT: It was crazy, hardworking, competitive, sometimes disillusioning when you started to see the business for what it was. But I learned a lot from my days in battling, everything from stage presence to understanding the inner working of the club scene and meeting new people. I was out on parole, fresh out of lock up and here I was winning battles and connecting with people who were from magazines, radio, and local communities all over New York and New Jersey. The game was much more simple then, and I would say a lot more ruthless and based on improvisational freestyles rather than prepared lines although either is acceptable as a win now. I met some great champions, legends and up and coming dudes that I still roll with now.
SKOPE: You write insightful and provocative lyrics? Where do you get your inspiration?
IMT: Life. Everyday life. Not just here but all over the world. From the pain and suffering to the joy and the love.
SKOPE: You've commented on how Obama has to compromise himself and dilute his message so that he avoids alienating voters? Do you think the US is really ready for anything else?
IMT: Right now with the circumstances that McCain created and that his base were out there making he had no choice but to stick to the most pro American message and change the argument from ethics to the economy. Palin was drumming about him and Bill Ayers, and just sounded like a fool. She was a big part of McCain's failure to connect with voters. I think the change the Barack Obama promised was indeed something that the people who control the economics of this country were looking for. It is not going to change the nature of capitalism, but hopefully it will be able to bring other issues that Obama was unable to really touch on to light.
SKOPE: Do artists receive pressure from their labels to dilute their message?
IMT: I personally have known artists, major label artists that have been told that, as for the independents they usually don't care. They might blank out a word or a line if it's too much but overall it's free range. I think that majors like to stay away from politics.
SKOPE: Do you think suffering injustice and experiencing struggles is necessary for a realistic perspective?
IMT: No, because Buddah didn't and yet he was enlightened. But I think that it definitely helps. But that if you don't come from that you shouldn't have to pretend that you do. There is a difference though between living in a bubble and accepting the reality of what is surrounding you. I think that without trying to understand that there are different perspectives than your own that you cannot ever really get a clear and realistic perspective though.
SKOPE: Are you involved with making the beats or the production side?
IMT: On a couple of occasions yes I'll find the melodies, or I will bring the samples to the studio, or I will play something out but the majority of the time, Southpaw will diligently take care of something like that.
SKOPE: Who produced the 3rd World album? Was it DJ Green Lantern throughout? What is it like working with him?
IMT: It was mostly DJ Green Lantern and Southpaw. Green Lantern is someone who I have known for years who has consistently been a supporter of street music and of hardcore Hop Hop. I think that it will be a veritable success no matter what project we work on. Recently I crossed the 50,000 unit mark for the 3rd World, even though Green Lantern was on tour with Nas the whole time my album was out. I think that for someone as busy as he is, he definitely found the time to break night with me and get a lot of work done. Came to the lab with a good ear for music and him and Southpaw worked well together. It was an honor to complete this campaign with him.
SKOPE: Are free markets creating slaves?
IMT: It has always created slaves. But people sell themselves into slavery sometimes.
SKOPE: Is there anything an individual citizen can do — is voting a futile act?
IMT: Local politics are a deciding factor in all politics, so it's very necessary to always participate in them, I hope that people don't think simply because Obama won that all the problems of the world will be resolved.