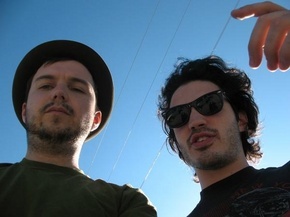 The End Of The World debut video "I Don't Wanna Lose." "French Exit" out this Week On Flameshovel/Pretty Activity Records plus more dates added to US tour, starting this week!
Leaving without saying goodbye is called a "French Exit." Suffice it to say, there has been an interesting cast of characters weaving in and out of the lives of The End of the World's Stefan Marolachakis and Benjamin Smith — but somehow through 14 bass players and one fistfight, the two of them have been able to stick together, whether it be as best friends or as band mates. It's a rarity in a city where true friends are hard to come by.
 
Singing drummer Stefan first met guitarist Benjamin in Spanish class nine years ago. The two friends have been writing and recording music together ever since, now better known as the Brooklyn-based band, The End of the World.
View Debut Video "I Don't Wanna Lose":
Listen To "Jody":
Nov 11 2008         Skully's w/ Blitzen Trapper & Horse Feathers       Columbus, Ohio
Nov 12 2008         WOXY | On the Radio!       Cincinnati, Ohio
Nov 13 2008       6:00PM Ear X-Tacy Records (FREE In-Store at 6pm)       Louisville, Kentucky
Nov 13 2008         Cahoot's w/ Young Widows       Louisville, Kentucky
Nov 14 2008       Cinemat w/ Gentleman Caller (ex Blake Babies)       Bloomington, Indiana
Nov 15 2008     The Hideout w/ Thee Hardy Mums       Chicago, Illinois
Nov 16 2008   Picador w/ Heartless Bastards       Iowa City, Iowa
Nov 18 2008     Slowdown w/Jake Bellows (of Neva Dinova)       Omaha, Nebraska
Nov 21 2008     Fred's Speakeasy       Asheville, North Carolina
Nov 22,2008  The Sentient Bean,   Savannah, GA
Nov 23 2008   Local 506 (Free!)       Chapel Hill, North Carolina
Nov 25 2008     TT the Bears w/ Miles Benjamin Anthony Robinson, Castanets       Cambridge, Massachusetts
Dec 7 2008       Music Hall of Williamsburgh w/ Constantines, Tim Fite       Brooklyn, New York