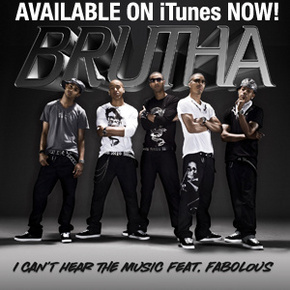 The music industry was shocked and saddened this week to here that Shakir Stewart had passed away in his home in Atlanta. Stewart had recently taken over for Jay-Z as the boss at Def Jam. Stewart had recently signed five brothers that as a group are known as, Brutha. Stoli was fortunate enough to talk with one of the brothers, Anthony "Ant" Harrell, about this tragedy and how Brutha will find a way to pick up the pieces through their music!
Stoli: Your hard work has paid off. How much pressure is there to have a new album coming on 11/18 off Def Jam?
ANT: Our album comes out December 23rd and I would be lying if I said that there wasn't tons of pressure on us. Not only have WE worked so hard to get to the point we are now but our uncle and manager Drano has worked probably harder. We can't let him down.
Stoli: When you were going to record "I Can't Hear The Music", how did you decide that Fabolous was the perfect emcee for the track?
ANT: We have always been a fan of Fabolous. It was easy picking him cuz he's one of the dopest mc's in the game. Period.
Stoli: The late Shakir Stewart is responsible for your record deal. How did his untimely passing effect you and do you feel a need to prove he was right in giving you a shot?
ANT: When my uncle called and told us Shake had passed we flat out didn't believe it. It was completely devastating to us and I still don't think it has hit us that he's gone. Because Shake was responsible for signing us we ABSOLUTLEY have something to prove now. I think my uncle is even setting up a tribute of some sort in dedication to Shakir.
Stoli: Last night we watched as Barak Obama became the first African American president of the US. Where were you when he was announced the winner and what significance do you see in this event?
ANT: We we're at home sitting in the living room together. The experience was really indescribable and I don't think I have to say how much significance it had. Everybody already knows!
Stoli: How do you react when people automatically compare Brutha to New Edition or any other 5 member boy bands of the past?
ANT: To be compared to any great group from the past…ie Jackson 5, New Edition…..is a great honor but we just feel blessed to be doing music and still have sooooooooooooooo much to prove.
Stoli: Now that you have your record deal, what is the biggest diffrence in your everyday life now?
ANT: The biggest difference I think is time. We stay so busy working hard that we don't have as much time do BS like we did before.
Stoli: You worked for many years on perfecting your craft, what sacrifices have you had to make to pursue your dream?
ANT: Many sacrifices. To name a few, the time we get to spend with our family is cut short, also because we all live together and see each other everyday, we don't get much alone time.
Stoli: Being brothers, fighting can be inevitable. How do you keep the peace and staty focused on the music?
ANT: Because at the end of the day we are a family. Familys fight but nothing will ever change the fact that we're blood. So why hold grudges.
Stoli: When you are not working on your music career what do you like to do on your time off?  
ANT: We like to play stupid games, keep each other laughing, play basketball.
Stoli: How does it feel when you turn on MTV Jams and you see your video in rotation?
ANT: It feels like we're on drugs for lack of a better thought.
Stoli: If there was one thing my readers should know about Brutha what would that be?
ANT: That's hard. I guess that we're gonna work super hard to prove that we deserve to be here and that our family lineage in music needs to be taken seriously.
Stoli: Thank you!