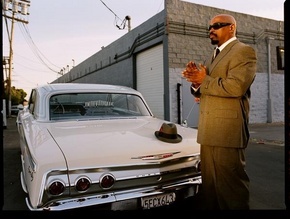 Latino hip-hop pioneer Sen Dog has posted the video for his new single "Capo" here. The track is taken from Sen Dog's new album, "Diary of a Mad Dog", which was released through Suburban Noize Records.
"Capo"
[youtube OG5YmE8mZHg nolink]
"I want to invite everyone to check out my new video for the song 'Capo' its my very first video off my new solo album 'Diary of a Mad Dog'," commented Sen Dog. "I'm really   proud of this video and want to send a big shout out to all who worked on it. Hope you all enjoy it."
Sen Dog's bark is louder than ever on his debut solo album, "Diary of a Mad Dog". The rabid emcee has laid it on the table for the release of his first ever solo release that tackles the matters of money, faith, family and music. With the help Cali buds Tangled Thoughts, DJ Ace, and Cypress Hill partner B-Real, Sen Dog has crafted a solo joint so potent it rivals anything in his back-catalog.