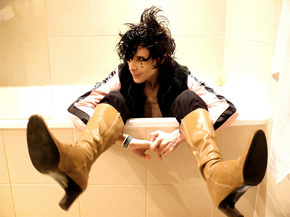 IAMX's Chris Corner has a habit of teasing fans and making them salivate. For years, his two critically-acclaimed albums, Kiss + Swallow and The Alternative, were only available in Europe.  
Yet, his US fanbase begged and pleaded for a Stateside release, and instead of appeasing them, he teased them with three sold-out tours.  
The albums were eventually released Summer 2008 on Metropolis Records and a whole new audience found him and shared the relish of his "glam noir" music that fuses electro, pop, rock and glam into hyper-sexual, uber-sensual midnight dance music.
"Think Of England" MP3:
IAMX will also be releasing the live album, IAMX: Live In Warsaw on November 18 via Nineteen95's website taken from Polish Radio Three in Warsaw. Known for their electrifying and dramatic live shows, the transcontinental fourpiece (with members from England, Berlin and Philadelphia) has hypnotized audiences with their post-apocalyptic and hyper-visual stage presence while remaining incredibly true to the recorded material – a rather intense feat, given the music's multiple layers and intricate arrangements.
IAMX: Live in Warsaw Track listing
01. The Alternative
02. Bring Me Back A Dog
03. The Negative Sex
04. Mercy
05. Lulled by Numbers
06. Song Of Imaginary Beings
07. Spit It Out
08. Kiss And Swallow
09. President
10. Missile
11. Your Joy Is My Low
Photo Credit: Patrick Higgins