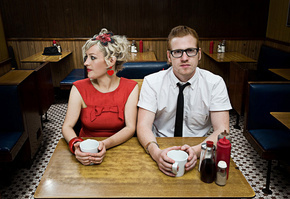 Alice Russell is hitting the road in the U.S. with the Hotel Café Tour in support of her sophomore album, Pot of Gold, that was digitally released on November 4th and will hit U.S. physical retailers on January 6th, 2009 on Six Degrees Records.
Alice has developed a burgeoning career as one of the hottest UK soul singers today. While comparisons have been made to other popular British vocalists like Joss Stone, Amy Winehouse, Duffy and Adele, one listen and look at Alice and you can immediately tell she's in a class by herself.   She has recorded and performed in well respected company that includes Massive Attack, The Roots, Lonnie Liston Smith, Femi Kuti, De La Soul, Quantic, and The Quantic Soul Orchestra to name a few. And her recent collaboration with Ninja Tune's Mr. Scruff on "Music Takes Me Up" is a standout track from his new album Ninja Tuna and was released to rave reviews.
Check out "Got the Hunger?" from Alice Russell's new CD, Pot of Gold:
Alice Russell is also a featured artist on this fall's Hotel Café Tour alongside fellow artists Rachael Yamagata, Meiko, and Thao Nguyen.   The tour, currently underway, hits both East and West Coasts next week. Don't miss your chance to catch her live!
11/07       Madison, WI                 High Noon Saloon
11/08       St. Louis, MO                 Blueberry Hill
11/09       Lawrence, KS               Liberty Hall
11/10       San Francisco, CA       The Independent
11/13       Los Angeles, CA               The Hotel Café
11/14       New York, NY               Hiro Ballroom