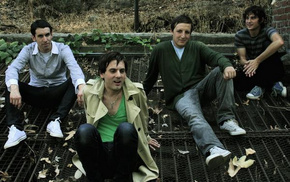 I can personally attest to the fact that as an artist, sometimes your personal muse is whispering in your ear and other times, she is nowhere to be found. What else is interesting to note is that muses tend to be rather fickle about when and where they bestow their inspiration–just ask Justin Kennedy.
The former co-front man of Seattle's Pinwheel had relocated to Los Angeles and was dreaming up the beginnings of his next project, when epiphany struck in the form of an errand on a to-do list.
"It came from the surplus store," Justin said of the quirky moniker. "I had a list of things to do and one of them was to go to the army-navy surplus store and I had just written it on a piece of paper. I was just doodling and it had a really great look to it. The symmetry of it, it just had a certain ring to it. It just resonated with me."
Meanwhile, Justin released demos of fledgling songs and they fell in the hands of some of L.A.'s movers and shakers, eventually making their way to bassist Benjamin Gaffin. He in turn passed them on to composer/solo artist Louie Schultz. With the addition of drummer Josh Zetumer, Army Navy's lineup was complete and they hit the L.A. club scene in earnest.
Deciding to pursue other things, Zetumer left around the time the band was ready to record their full-length debut. Enter Elvis Costello drummer Pete Thomas. It is his thunderous percussion that the debut boasts. Though musically, not much has changed in Justin's approach to songwriting.
"I had a batch of songs that I had been working on (the demos)," he said. "And they sort of took their own direction, which wasn't far from the direction from where I was before, but they were more mature and reflected a different part of my life."
But ever sticking to his guns, the debut's writing is testament to Justin's trademark tracks of pop sensibility. "My Thin Sides" is reminiscent of Dinosaur Jr. guitar-work melded with the jangle components of The Connells and college radio era R.E.M. "Slight of Hand" slows the pace slightly with semi-sedate acoustic guitar picking and Justin's upper octave vocals at the forefront. Rounding out the breadth of the album is "Saints" with more jangle guitar work and pure approachable pop goodness.
With the addition of permanent drummer Doug Randall, Army Navy is on a coast-to-coast promotional run in support of the debut, which was released earlier this month (Oct. 14th) on their vanity label The Fever Zone. Also look for an exclusively contributed track to the recently released Michael Cera movie Nick and Norah's Infinite Playlist.    
Words By: Chris West – cwest@skopemagazine.com
Photo By: Travis Schneider