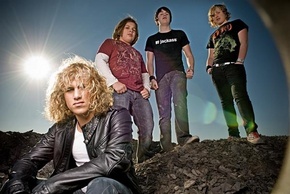 Rave reviews are pouring in ahead of the January 13th release of Crooked X, the self-titled full-length debut by the talented young rockers from Coweta, Oklahoma.
The buzz is loud, earning Crooked X a January 15th slot on "Jimmy Kimmel Live" where they'll perform the first single from Crooked X, "Rock N Roll Dream."
Their 10-song debut for EMI, was helmed by hit producers Spencer Proffer (Tina Turner, Quiet Riot, WASP) and Michael Wagener (Ozzy, Skid Row, Poison). Til We Bleed, a digital-only EP, is complemented by their reality special, which will be aired across all MTV networks on January 13, 2009, to coincide with the release of their debut EMI/MPM album Crooked X. The program shows the real-life Cinderella story of Crooked X's beginnings as 14-year-olds in Coweta (population 7,000), highlighting how the four young boys started a band in a garage, scored music in the highly successful Rock Band, headlined the Fender/Rock Band Lounge at 2008's Sundance Film Festival and opened for KISS in front of 35,000 screaming fans in Stockholm. These events led to Crooked X signing with EMI via McGhee Proffer Media (MPM) in August of 2008, all within the span of nine months.
Photo by Jeremy Charles