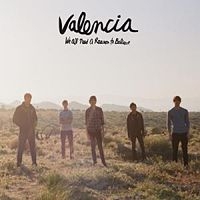 We All Need A Reason To Believe, the major label debut from Philadelphia rock band Valencia, could easily be dismissed as just another generic sounding release from some emo, pop-punk outfit. However, those who will do such a thing will be missing out on a fine rock CD that reveals its charms with repeated listenings.
Truth be told, the first time one listens to the 11 tracks on We All Need A Reason To Believe one notices that the songs aren't very complex and don't break new ground sonically. The majority of the songs here are guitar-based with catchy choruses and pounding drums–stuff that bands like Jimmy Eat World and New Found Glory can record in their sleep.
And yet, Valencia's latest deserves plenty of detailed attention because there are plenty of surprises to be found sprinkled throughout the CD. For instance, "Where Did You Go?" starts out like a standard pop-rock song nowadays with the opening drumbeat followed by the pulsing bassline and well-timed electric guitars but the track turns into a definite highlight halfway through with some nice violins and sublime female backing vocals by Rachel Minton.
Another song of note that sparkles is "The Good Life" which has an alt-country vibe that brings a welcome change of pace to the recording. Sure, Wilco will not be worried that Valencia has invaded on its turf but the song reveals that the members of this Pennsylvania fivesome are talented and willing to tackle other genres in subtle ways.
One more additional positive aspect to We All Need A Reason To Believe that should be mentioned is the lyrical content of the songs. Unlike many emo or punk-rock bands, the majority of the tracks deal with rather adult issues but in a refreshingly positive way. This is even more impressive when one finds out that lead singer Shane Henderson's girlfriend passed away a few years ago. Her presence is felt in many of the songs' lyrics (especially "The Good Life") but the end result is anything but depressing.
While the personal subject matter on this release is another positive thing, one has to admit that the music and the vocals on We All Need A Reason To Believe are extremely polished and clean which might disappoint those that like their rock more heavy and gritty. Still, Valencia has shown here it is a band that knows how to write some very good hook-filled songs and there are many reasons to believe that its future is going to be a good one because of it.
Words By: Todd Sikorski
[Rating: 3.5/5]