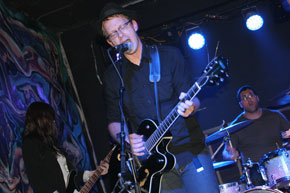 This was a night of anemic indie fanfare. I was surprised there weren't more people attending this show since it was a solid lineup. Okay, so it was a Thursday and the show started earlier than most Respectable Street patrons are expected to show their tattooed and eclectic selves. But come on you have to show some support for Florida indie music!
The band members and their small entourages outnumbered the attending music fans. One thing I immediately noticed was the popularity of beards amongst the small crowd that had gathered. An indie entourage isn't complete unless there are few hirsute faces in the mix. Usually the beard adorns a waif like creature who besides the masculine facial plumage is very much feminine — slight build, skinny jeans, and a limp-wristed art fag disposition. Occasionally you get a more balanced specimen who still looks like he just came from a camping trip.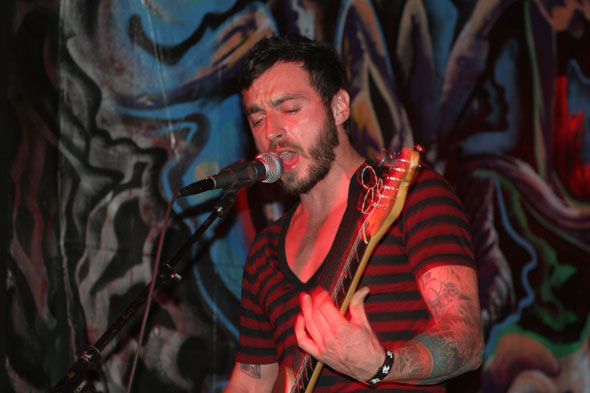 Mouse Fire were first on stage. All of them have beards. Actually if you check out their myspace you can see that two of the members have really gone all the way with this look. Front man Shane Schuch has the best-groomed beard and was wearing a plunging v-neck shirt that exposed his hairless chest. It's a disconcerting contrast. The Lakeland, FL trio has a quirky synth sound intertwined with subdued chords. They performed an excellent cover of "Burning Down the House".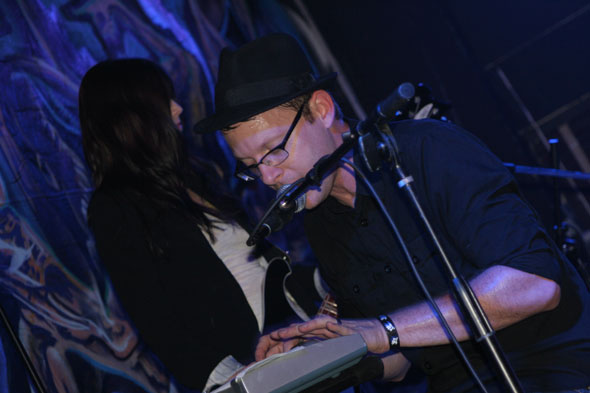 Next on were The Dark Romantics. This band was the reason I had come to this show in the first place. I saw them at the Florida Music Festival in Orlando in 2005. They were nothing short of amazing, with the fuzzy chords and droning singing of Eric Collins — think Julian Casablanca of The Strokes. It was a short set of seven songs this time. The quintet offered lush and dark melancholic melodies that put me in a quiet reverie. But the set was too short. I guess that they didn't want to waste their time on the lackluster turnout. What about me guys? Regardless it was great seeing them and I still can't get over how amazingly cute the female band members Carla and Amanda Jones are. There is something truly magical about seeing a raven-haired beauty on bass and her equally tasty blond sister on keys. I thank the rock gods. Unfortunately The Dark Romantics take a cue from ABBA and the sisters are married to their band mates. Bollocks!

 
TV Club was on last. These guys are locals from West Palm Beach and they delivered upbeat, youthful and energized indie pop. The fresh-faced front man was lively and engaging as he animatingly hollered into the mic. The exuberant and catchy guitars and drumbeats colluded with the vocals to create a wild and unhinged sound. TV Club has lots of potential and I definitely want to see more of them.
 
Words and Photos: Shaun Flagg