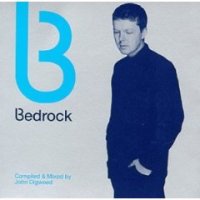 John Digweed's Bedrock 10-Best of the Past, Present, and Future, is a fresh rendition of some of the best minimal, progressive, and articulate techno to come out of the UK. Simple and well thought out, much like a Future Sounds of London, or Moby's Ambient meets some of the darker Fabric and Global Underground artists. John Digweed definitely delivers a great, although unsurprising, live mix.
It is clear that this double disc is geared more towards clubs and DJs than the personal listener. While these tracks provide a solid beat and some neat variations of beloved songs, to the at home listener and reviewer, one has to wonder if any new important tracks are coming out now. It is understandable because it is the best of the past present and future, but it so bleak out there that John Digweed has to remix "Beautiful Strange" for the fiftieth time?
It is most assuredly Guy J's, fresh "Save Me ( James Talk remix)" that is the hit of the first disc with a late night, spacey GU Afterhours compilations meets John Digweed vibe. However, as said before, this is a mixed album and does better as an entire entity that captures the UK master's club vibe and live set.
     
Disc One is tame in comparison to the explosiveness of Disc Two that barrels in with some super processed synth lines, layered with effects; giving it an anticipatory, haunting feeling. Bedrock's "Forge" by John Middleton is electric and commanding as it blasts in with the lucid arpeggiations and confident bass that is sure to make every head turn. It is fresh, new, lush, and deep. Again, Guy J's track "Lunar" takes it up another notch with even darker, grittier basses and wonderful sine wave sounds, tipping his hat to the likes of Steve Lawler and Ewan Pearson. The listener gets everything the heart desires on Disc Two from infectious beats to intricate, heartfelt melodies, and dirty basses. "Empathy" absolutely sparkles with light and is the best track from Disc Two. After that, the album pretty much dissolves into a noisy, harsh, techno clashing with dirty house leaving a forgettable image in one's mind.
     
As a whole, there were a few key tracks that were a pleasure to listen to. Definitely worth picking up a copy, even if it were just for those few to either remix or put in a shuffle playlist. A great album to use while spinning a set or doing a radio show, not one to listen to front to back.
Words By: Whidden Flores
[Rating: 3/5]