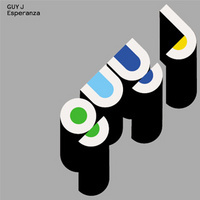 For the minimal house head, Guy J's Esperanza is the key. Ranging from a wide variety of influences from John Digweed and Jam & Spoon, to Jean Michel Jarre or Tiga. Although more of an ambient vibe than that of a DJ set or room thumper, Guy J is definitely onto a unique and distinct style that will set him apart from other DJs.
           
"Indigo Fields" starts the album off with an exploration and experimentation of sound. There is a wandering, slightly off kilter analogue sounding synth that weaves in and out of sync with the tempo that is backed by a very simple, standard techno beat. "Geko" is another explorative song but with some very tight and perfectly placed arps that give props to the Bedrock Compilations. "Mikro" is a great, solid track for DJ's with a looming, looping, dark bass and thicker, driving drums than the rest of the album. "Druma" is etheral, and almost sounding like tracks from Ulrich Schnauss meets Orbital's "Perfect Sunrise," on top of some lo-fi drums.
           
The best track off Esperenza is "Love is not Alone"; a breezy, fun beach vibe of Jam & Spoon meets Groove Armada in an ambient setting. The sounds are playful, catchy, and comfortable- like a beat one would write at home in your bedroom on a sunny afternoon.          
However the one downfall about Guy J's album is that of the production quality on the drums. Although it might have been intended to add to his personal style that he was trying to convey or to make it easier to mix into other tracks for professional DJs, some of the drums seem under compressed and processed because they are always the quietest part of the mix.
           
Overall, an interesting new, original mix of minimal techno clashing with deep house synthesizers in a unique and personalized way.
Words By: Whidden Lee Flores